Home
Racing and activities
Road racing
Friday, 16 February 2007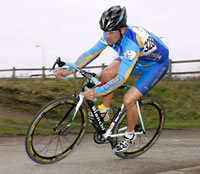 Road racing is a very exciting area of cycle sport. Usually it refers to races held on public roads or closed circuits where all competitors start together and the first rider over the finish line at the end of the race is declared the winner. Although it's a very simple concept, the tactics employed to win the race can be very subtle and sophisticated.

The way a race unfolds depends on its distance, the terrain, the size and calibre of the field, the particular strengths of each rider, and the extent of team tactics.

Consequently, road races can be won from a bunch sprint, from a small break, or by a loan rider chased by the rest of the race.

Road racing is extremely popular in mainland Europe, particularly national stage races and one day "classics". In this country the sport is largely governed by British Cycling and most races are held under it rules, but there is also an alternative programme of events for riders over 40 years old run by the League of Veteran Racing Cyclists.

There are races for Juveniles (under 16s), Juniors (approximately 16 to 18 year-olds), "Espoirs" (under 23s), and seniors. There are also women-only events, although women also compete alongside men too. Juveniles are not permitted to race on public roads, so their races are all on closed circuits.

Senior riders are categorised as Elite, 1st category, 2nd category, 3rd category and 4th category, with individual races being open to a particular category or multiple categories. New riders are issued with a 4th category licence. Points are awarded for winning races or finishing in a high position, and if a rider gains sufficient points they advance through the category system.

Races are typically 30 to 40 miles for 4th category riders, up to 100 to 120 miles for national level elite events. These are usually one-day events, but there are also stage races in which the overall winner is the rider with the lowest overall time for the entire race.

You don't need a very expensive bike to start road racing. As long as it's well-maintained and meets some basic requirements, a standard road bike will do just fine.

If you'd like to find out more about road racing, have a look at British Cycling's road racing pages or just contact us.