North Road C C Hill Climb (New Road, Digswell)
Sun 15 Oct 2017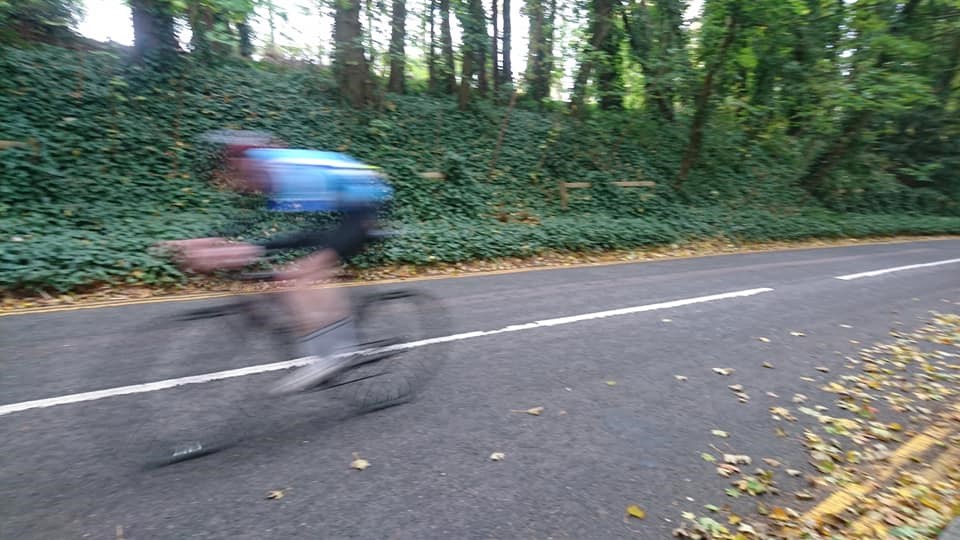 North Roaders don't blame it on the sunshine, they blame it on good times
I had to forego the 2016 Hill Climb but the day set aside for this year's event dawned fair and warm which encouraged a bumper entry of 22 members and 3 guests.
I dealt with the signing-on paperwork, collected the entry fees, gave out numbers and got the event on the road ably assisted by Nick Harris holding the watch at the start and Nigel Cameron calling out the numbers of the riders at the finish. In the back-ground I was repaying the IOUs for the overpaid entry fees from the Hardriders held two weeks earlier - there was a surfeit of £20 and £10 notes - and also looking out for members returning trophies for the 2017 engraving chore. The event was a success with Pierce McGrenaghan leading the riders who beat the three minute barrier - some asked if his time was a record but I confessed that I did not know the answer. Nick Candy narrowly failed to retain the hill climb cup from 2016. Dagmar Pfeifer was the fastest of the six lady riders on three minutes exactly.
I had time to catch my breath as I made my way to the home of Gill and Bill Bonfield for coffee and a spread of home made cakes and biscuits, which were much appreciated by riders, helpers and spectators. This was a welcome break in what for me proved to be a tiring but happy morning to wind up the season (if you overlook the Christmas '10' in December).
Graham Thompson
Position Rider (* Lady) Time
1 Pierce McGrenaghan 2.25
2 Nick Candy 2.32
3 Michael Atkinson 2.37
4 Dan Ryan 2.47
5 Glyn Dodds 2.48
6 Pete Lee 2.56
7= *Dagmar Pfeifer 3.00
7= Richard Somerset 3.00
9 Anthony Taylor 3.13
10 Ian Coles 3.14
11 Eric Paillet 3.15
12 James Cross 3.16
13 Ashley Glass 3.19
14 Sam Watling 3.30
15 Dale Sellars 3.39
16 *Ivana Prokopova 3.44
17 *Nikki Chandler 4.06
18 Paul Bailey 4.07
19= *Andrea Davies 4.17
19= Chris Glithero 4.17
21 Paul Groves 4.48
22 *Hollie Bailey 6.32
Guests
1 Paul Stewart Herts Whs 3.07
2 Sam Ball Herts Whs 3.20
3 *Tracey van der Merwe Finchley RT 3.27