North Road Hardriders Feb 2020
Sun 23 Feb 2020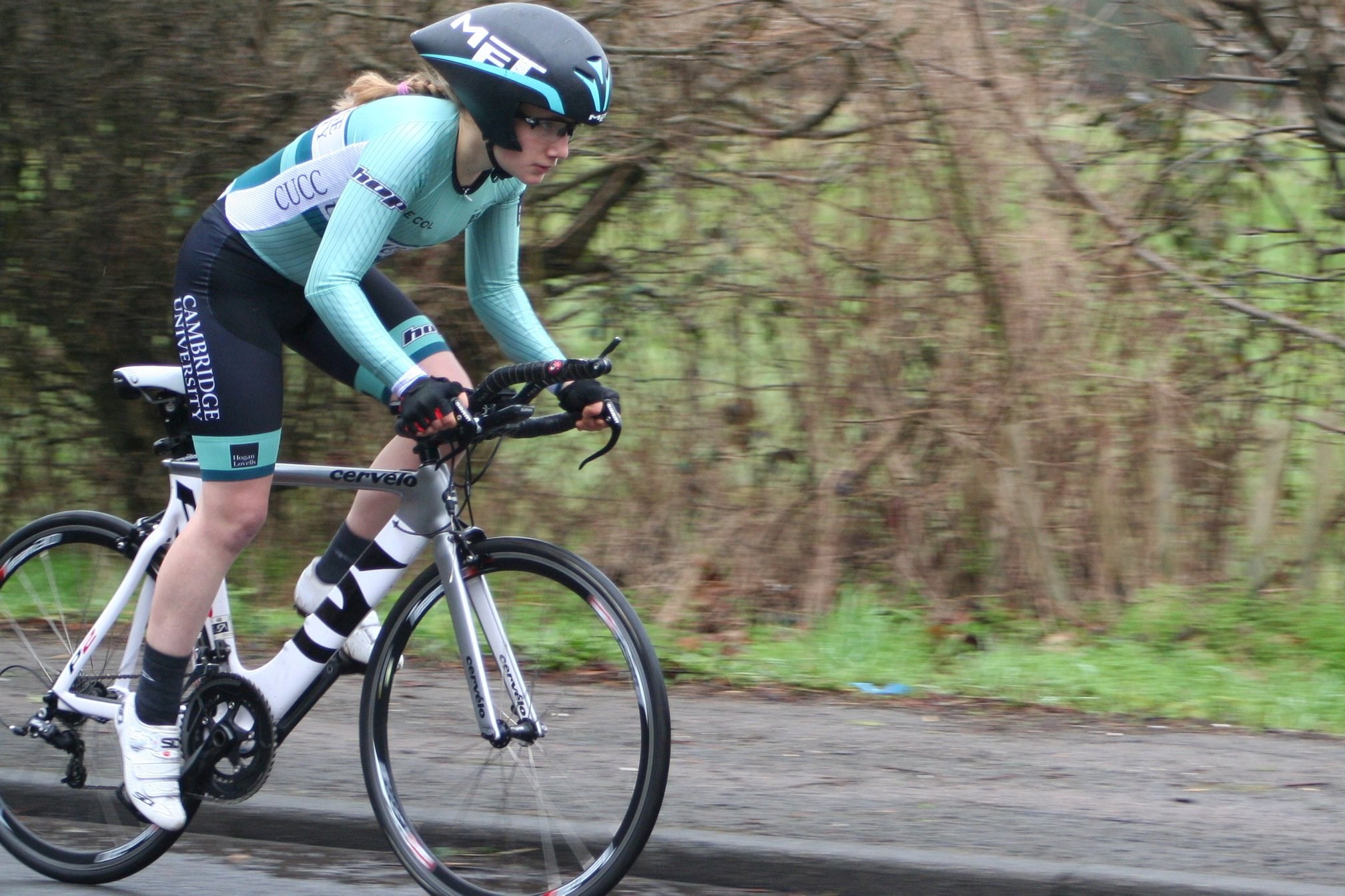 A shortened course in tricky conditions
With temporary traffic lights operating under the viaduct on the B158, the course was shortened with riders turning right at Bayford instead of returning to Brickendon.
Heavy overnight rain and light drizzle at the start left wet roads and puddles on the course, and gusty winds added to the sketchiness. However that didn't prevent some very impressive times being posted. 
Winner in the Men's category this year was Ollie Stockwell with previous winner Lloyd Chapman a close second. 
Elspeth Grace took the Women's prize with Amy Pritchard second. Elspeth's Cambridge University team took the team prize.
Photos thanks to Ivana Prokopova https://photos.app.goo.gl/ZFuzTMXT8YQ4SGzq9
Position
Img
First Name
Last Name
Gender
Category
Club
Time
Avg. Speed

Points

1
Oliver
Stockwell
Male
Junior
Flamme Rouge Cycling Team
51:33
29.098 Mph
150
 
2
Lloyd
Chapman
Male
Senior
Loose Cannon's Conditioning
52:19
28.672 Mph
147
 
3
Rob
Walker
Male
Senior
Cambridge University CC
52:54
28.355 Mph
144
 
4
Jack
Brown
Male
Espoir
ActiveEdge Race Team P/B Cooper/BMW Inchcape
53:17
28.151 Mph
141
 
5
James
Jenkins
Male
Espoir
Richardsons-Trek RT
53:41
27.942 Mph
138
 
6
John
Mulvey
Male
Senior
ActiveEdge Race Team P/B Cooper/BMW Inchcape
54:46
27.389 Mph
135
 
7
Jack
Kellam
Male
Senior
Cambridge University CC
55:07
27.215 Mph
132
 
8
James
Mckay
Male
Senior
Team PB Performance
55:53
26.842 Mph
129
 
9
Nicholas
Candy
Male
Espoir
North Road CC
55:59
26.794 Mph
126
 
10
Neil
Harrigan
Male
Vet
Gravesend CC
57:02
26.3 Mph
123
 
10
James
Lloyd
Male
Junior
JRC Shutt Ridley RT
57:02
26.3 Mph
123
 
12
Jordan
Calcutt
Male
Senior
Islington Cycling Club
57:39
26.019 Mph
117
 
13
Callum
Stewart
Male
Senior
East London Velo
57:50
25.937 Mph
114
 
14
Euan
Tebbutt
Male
Espoir
Coalville Whs
58:17
25.736 Mph
111
 
15
David
Ross
Male
Senior
LFGSS CC
58:18
25.729 Mph
108
 
16
Henry
Farrell
Male
Senior
Full Gas Racing Team
58:22
25.7 Mph
105
 
17
Gregory
Smith
Male
Vet
Finsbury Park CC
59:10
25.352 Mph
102
 
18
Oliver
Smee
Male
Senior
Ilkeston Cycle Club
59:19
25.288 Mph
99
 
19
Dominic
Bray
Male
Vet
Finsbury Park CC
1:00:06
24.958 Mph
96
 
20
Ian
Turner
Male
Vet
North Road CC
1:00:35
24.759 Mph
93
 
21
Tim
Davies
Male
Vet
CC Luton
1:01:03
24.57 Mph
90
 
22
Blake
Gravenor
Male
Senior
Islington Cycling Club
1:01:22
24.443 Mph
87
 
23
Pete
Lindsell
Male
Vet
Tri London
1:02:37
23.955 Mph
84
 
24
Elspeth
Grace
Female
Espoir
Cambridge University CC
1:02:49
23.879 Mph
81
 
25
Rafael
Hackenbroch
Male
Junior
Regents Park Rouleurs
1:03:14
23.722 Mph
78
 
26
Michael
Parker
Male
Vet
TMG Horizon Cycling Team
1:03:22
23.672 Mph
75
 
27
Gavin
Rumbles
Male
Vet
CC Luton
1:03:46
23.523 Mph
72
 
28
Michael
Edmunds
Male
Vet
Verulam Really Moving
1:03:55
23.468 Mph
69
 
29
Matt
Yardley
Male
Vet
Macclesfield Wheelers
1:04:16
23.34 Mph
66
 
30
Glyn
Dodds
Male
Vet
North Road CC
1:05:24
22.936 Mph
63
 
31
Amy
Pritchard
Female
Vet
Giant Camden Team Liv
1:06:13
22.653 Mph
60
 
32
Frank
Rawlins
Male
Vet
North Road CC
1:06:26
22.579 Mph
57
 
33
Sinclair
Easton
Male
Vet
CC London
1:06:40
22.5 Mph
54
 
34
Pawel
Geczew
Male
Senior
Giant Camden Team Liv
1:06:46
22.466 Mph
51
 
35
Christian
Olley
Male
Vet
TMG Horizon Cycling Team
1:08:20
21.951 Mph
48
 
36
Nuala
Robinson
Female
Senior
North Road CC
1:08:25
21.924 Mph
45
 
37
Peter
Redshaw
Male
Vet
CC London
1:08:32
21.887 Mph
42
 
38
Jim
Higson
Male
Senior
CC London
1:08:51
21.786 Mph
39
 
39
Ross
Thomson
Male
Vet
Hitchin Nomads CC
1:09:05
21.713 Mph
36
 
40
Anton
Blackie
Male
Senior
Rapha Cycling Club
1:10:05
21.403 Mph
33
 
41
Mallory
Simmonds
Female
Senior
Tri London
1:10:39
21.231 Mph
30
 
42
James
Johnson
Male
Vet
Welwyn Whs
1:10:58
21.137 Mph
27
 
43
Graham
Irvine
Male
Vet
London Phoenix CC
1:11:27
20.994 Mph
24
 
44
Vivienne
Tomlin
Female
Vet
CC London
1:13:13
20.487 Mph
21
 
45
Raymond
Thorn
Male
Vet
North Road CC
1:14:14
20.207 Mph
18
 
46
Mathilda
Dyson
Female
Senior
Islington Cycling Club
1:20:17
18.684 Mph
15
 
47
Alexander
Craig-Thompson
Male
Senior
Finsbury Park CC
1:21:39
18.371 Mph
12
 
48
Richard
Pimlott
Male
Vet
Finsbury Park CC
1:27:43
17.1 Mph
9
 
49
Christine
Pout
Female
Vet
Verulam Really Moving
1:28:54
16.873 Mph
6
 
50
Abigail
Coles
Female
Espoir
North Road CC
1:29:15
16.807 Mph
3
 
DNF
Oscar
Wood
Male
Espoir
Ipswich BC
 
 
0
 
DNF
Josh
Crow-Stewart
Male
Senior
Arctic Aircon RT
 
 
0
 
DNF
Steven
Wirth
Male
Vet
Virtual Cycling Club
 
 
0
 
DNF
Nicholas
Coe
Male
Vet
Verulam Really Moving
 
 
0
 
DNS(A)
Ryan
Sheppard
Male
Senior
G.S. Henley
 
 
0
 
DNS(A)
Paul
Wright
Male
Vet
Army Cycling
 
 
0
 
DNS(A)
Gray
Turnock
Male
Vet
Finsbury Park CC
 
 
0
 
DNS(A)
Gareth
Davies
Male
Vet
London Phoenix CC
 
 
0
 
DNS(A)
John
Griffin
Male
Vet
Tri London
 
 
0
 
DNS(A)
Robert
Gilmour
Male
Vet
Hounslow & District Whs
 
 
0
 
DNS(A)
Arlen
Vartazarian
Male
Vet
Regents Park Rouleurs
 
 
0
 
DNS(A)
Joe
Kiely
Male
Junior
HMT Hospitals Giant Cycling Team
 
 
0
 
DNS(A)
Robert
Barrett
Male
Vet
AS Test Team
 
 
0
 
DNS(A)
Alfie
Salmon
Male
Juvenile
Lee Valley Youth CC
 
 
0
 
DNS(A)
Nick
Hickman
Male
Vet
Team Salesengine.co.uk
 
 
0
 
DNS(A)
James
Watthey
Male
Vet
Regents Park Rouleurs
 
 
0
 
DNS(A)
Richard
Lofthouse
Male
Vet
Eagle Road Club
 
 
0
 
DNS
Matthew
Clements
Male
Senior
ActiveEdge Race Team P/B Cooper/BMW Inchcape
 
 
0
 
DNS
Jamie
Dredge
Male
Vet
Regents Park Rouleurs
 
 
0
 
DNS
Andrew
Jarratt
Male
Senior
Southgate CC
 
 
0
 
DNS
Tim
Fowler
Male
Vet
PSSA Cycling Club
 
 
0
 
DNS
Nicholas
Palmer
Male
Senior
CC London
 
 
0
 
DNS
Kevin
Linehan
Male
Vet
Tri London
 
 
0
 
DNS
Will
Holland
Male
Senior
TMG Horizon Cycling Team
 
 
0
 
DNS
Harry
Thompson
Male
Senior
Leicestershire RC
 
 
0