North Road C C Christmas '10' – Sunday 8 December 2019
Sun 08 Dec 2019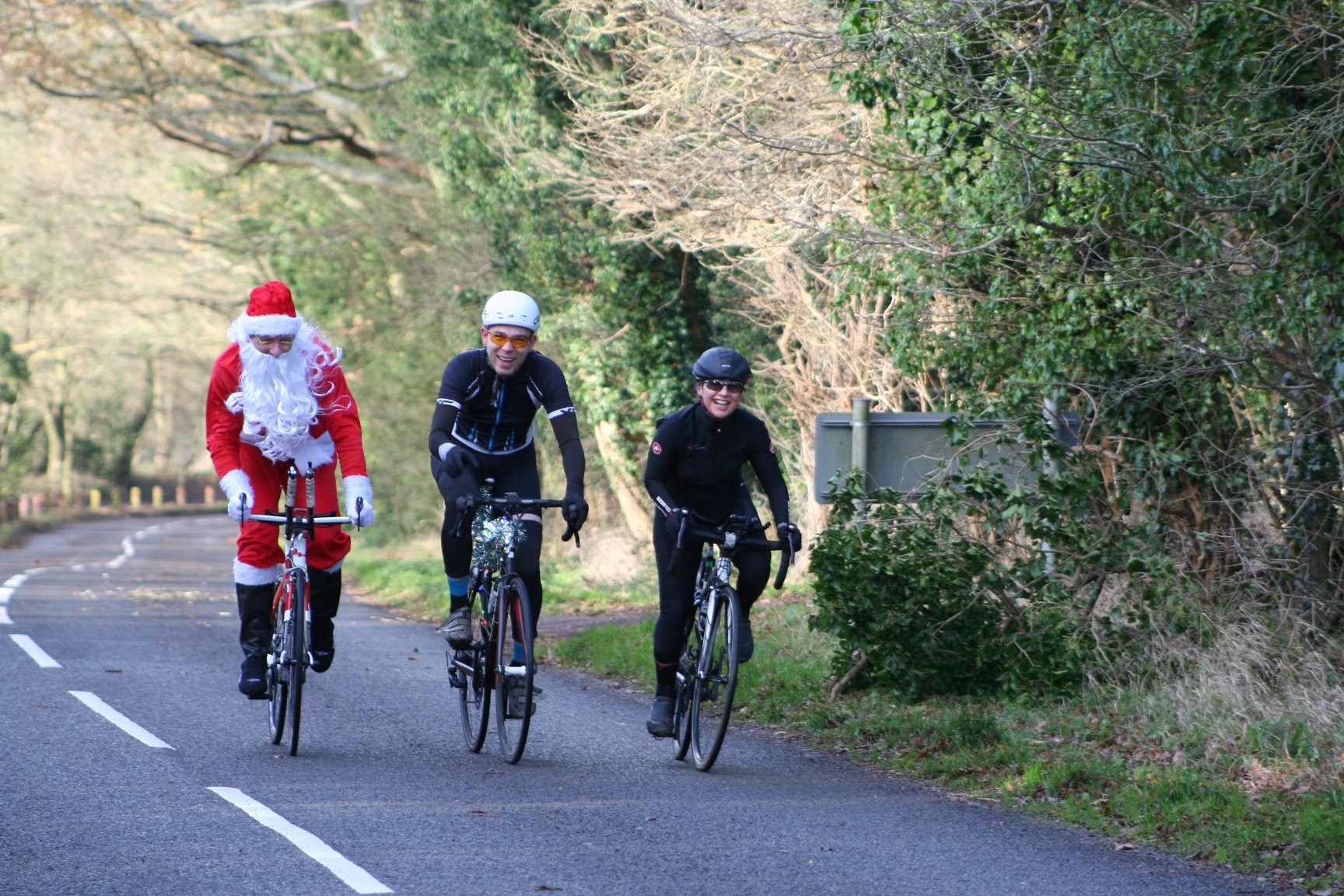 Nik Candy triumphs in Frivolous Festive Fancy Dress Fun
 Pos Rider Time
1 Ian Turner Santa Claus 29.19
2 Chris Glithero NRCC Blues 30.11
3 Dan Ryan Mister Tinsel 30.19
4 Ivana Prokopova Lady in Black 32.19
5 Nikki Chandler Candy Cake 34.09
6 David Bristow Needs a Nurse 41.58
There appeared to be some confusion who had the booking for Brickendon Hall.
Was it the Premier Road Cycling Club or the Balloon Artist Decorators? Whatever takes your fancy but the NRCC being gentlemen and ladies conceded ground and the signing on, number pinning and money changing took place en plein air. There was a brisk wind and it was cold but cyclists and their fans are a hardy lot so time was called at the usual spot by the tennis courts which were marked by the absence of players.
Santa Claus took the prize for the male section and Candy Cake took the cup for the female section. By design or seasonal spirit three riders crossed the finish mark in line across the road all on the same seconds (nineteen) but the timekeeper was not so kind with the minutes which came out at 29, 30 and 32. Then there was an anxious wait for the young William who was not feeling too good and had to be taken home to recover. It will soon be Christmas and best wishes are with you for a speedy recovery.
The end of the not so serious race left the gathering without a home for refreshments but Kevin Hillcoat solved the problem by inviting the party to his home for tea, coffee, sausage rolls, mince pies and cakes to his house in Brickendon Lane. This was very welcome to everybody especially the timekeeper who had felt the cold rising from the ground and not helped by the brisk cold wind. The under floor heating in his house was very welcome for cold feet. Several spectators were in seasonal garb and deer and holly tree uniforms were seen in the neighbourhood. Thanks go to Ian Clay for the signage, Graham for timekeeping and several cooks for providing the eatables and all who made the day a success.
A word of warning for 2020 - a working rear light will be compulsory in all events run under CTT regulations. The National Committee are to issue Guidance Notes of how this will work in practice but to myself as a timekeeper it means no rear light no ride! Any Christmas money would be wisely spent on the purchase of lights.
Frozen Bystander.
(Thanks to Graham Potter for the pictures)