EASTERN REGIONAL CHAMPIONSHIP – MTB CROSS COUNTRY
Sat 04 Jun 2016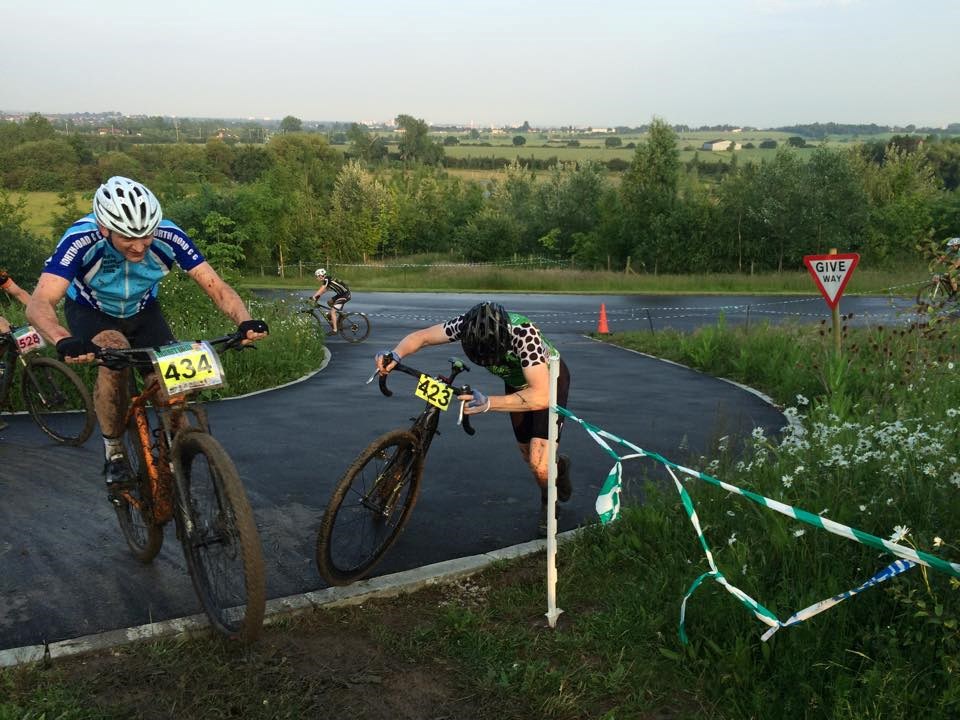 Mud Sweat & Gears Rd 5: Hadleigh Park, Essex
The regional championships held fittingly on the Olympic mountain bike cross country from London 2012  (#legacy). The day itself was sunny and very warm, just the conditions for racing up and down hills.
On arrival I was greeted by Dave Kiely who was relaxing post riding in the Open category in the morning and supporting son Joe (Welwyn Wheelers) who came  an impressive 3rd in the Juvenile Males. Dave provided some good guidance on the course and the main obstacles with a short recce. It was clear from this that his was now ordinary course, with the "black" graded features looking fearsome and good views across the course evidencing that it was very hilly.  Initial warm up laps where enough to confirm this, with chance to practice the course options (faster / harder "A-lines" vs. slower/easier "B-lines"). With riders crashing on the practice and some high adrenalin attempts myself on the A-lines, I concluded safety was the best policy and elected for mostly B-lines, with one A-line dropped in per lap more than enough for me.  The race started well with the usual elongated set of straights to the first section of single track.
A good start saw k meeep position mid pack and narrowly avoid some to speed sliding happening ahead on a downhill grassy bend. Once on the single track the race began to form as the queue through the first uphill set of switchbacks formed and riders patiently waited their turn in-line. Soon enough though things stretched out as people began to take the different lines, worked to their own capabilities.
After a lap or so the usual battle with people around me  commenced with me loosing time on the b-lines, but seemingly gaining It back on the ascents and the flat. Laps started to pass in the heat and the course started to become more familiar and confidence began to grow on the descents, even the one A-line started feeling "normal" by the end. Loosing time on the slower routes was mentally challenging though as each time I  to work back up to the people who had been behind me prior to the obstacle, and this generally meant going harder on the hills, but slowly but surely they seemed to tire more on the hills and I gradually managed to get ahead and then stay ahead in my own personal race within a race. By the end I was happy to finish a lap down on the leader and pleased with 24th from a competitive 5had8 starters. 
Racing on the Olympic course was certainly a step up from the previous events and a real tough challenge on such a warm day. The course is open to try and I will certainly be going back for some practice of those A-lines.