Home
Racing and activities
Track racing
Friday, 16 February 2007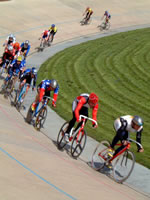 Track racing is one of the most exciting disciplines of cycle sport. Elite sprinters can accelerate from walking pace to speeds of almost 45 mph in sprint competition, combining extraordinary levels of bike control and skill with nerves of steel.
As a result of lottery funding, new facilities and the application of modern sports science, Great Britain has emerged from a long, lean spell to become the world's number one track racing nation, claiming numerous medals at the Athens Olympics. Riders such as Chris Boardman, Jason Queally, Bradley Wiggins and Chris Hoy have become household names through their Olympic success on the track.
Apart from the larger, outdoor concrete tracks dotted around the country British cyclist are fortunate to now have superb indoor tracks at Manchester, Newport (South Wales) and Calshot (Southampton). The great news is that a new world-class indoor track will be built in East London too over the next two or three years ready for the 2012 London Olympics.
The grass-roots of the sport, though, are weekly Track Leagues, at which there are events for children as young as eight as well as for senior riders. Track racing is an ideal sport for youngsters as it takes place well away from traffic with parents close at hand. There are several events per meeting, so if you don't do as well as you hoped in one, it's only a few minutes wait until the next.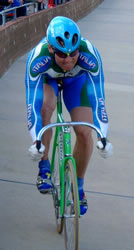 Anyone can enjoy racing on the track. You don't even need your own track bike, as most tracks have bikes to borrow or hire. Track bikes have a single "fixed" gear (as opposed to multiple gears with a freewheel) and no brakes. This might sound tricky, but in fact they're easy to master and track races tend to run very smoothly.

Specialist sprinters and kilometre time trial riders tend to be powerfully built with plenty of fast-twitch muscle fibres. Endurance event riders (which includes pursuit, team pursuit, points race, scratch race, and the madison) are trained to sustain a high power output over races lasting between four to forty minutes. They are often adaptable enough to be very good road racers and time triallists too (for example Chris Boardman and Bradley Wiggins).
Track events include:-
Match sprint
500m (women) and 1km (men) time trial
3km (women) and 4km (men) pursuit
4km team pursuit (four riders in a team)
Team sprint (three riders in a team)
Points race
Scratch race
Madison (teams of two)
As well as hard track racing, there's also grass track racing on playing fields and recreation grounds. Events are similar, but the atmosphere is very relaxed whilst still being very competitive.
It's easy to get involved in track racing, and women and youngsters are particularly welcome. Also, riding the track will often improve a road racer's ability to bridge gaps, attack and sprint. If you'd like to know more, see British Cycling's track pages or just get in touch .