Ride London Sportive - Sun 4th Aug 13 REPORT + photos
Sat 17 Aug 2013
Ride London Sportive – Sunday 5th August 2013
The route: Olympic Park, Canary Wharf, Piccadilly, Chiswick Bridge, Richmond Park, Kingston-on-Thames, Hampton Court, Newlands Corner, Abinger Corner, Holmbury St Mary, Leith Hill, Box Hill, Leatherhead, Cobham, Esher, Kingston, Putney Bridge, Embankment, Whitehall, Trafalgar Square, Marble Arch, The Mall.
I entered this event without much thought in late 2012 as some of my running friends were keen to do it. I had almost forgot about it when I received the letter to tell me I had been successful in the ballot and funnily enough none of my running friends had made it. Was I to ride it on my own?
The Ride London is a new event that tackles much of the same course as used in the Olympic Road race. Uniquely to the UK the entire route is run on closed roads.
I began to follow the Ride London Facebook page and I wondered what I had let myself in for. There were loads of people new to cycling asking for advice on bikes, equipment, training etc. Some were even asking about hire bikes. I thought, oh my god, this is going to be carnage: poor riding, congestion, walking on hills etc. There were be loads of charity riders, was this going to be like London to Brighton? Would loads of riders be pulled out as they couldn't make the time cut (as the pro race started at 12.30 on the same course there was a nine hour limit for those who started last). How wrong I was.
I had put down a finish time of 6 hours 20 minutes and this would determine the start order (faster riders first). I figured I could do 17 average with a few stops. After all I would be riding on my own overtaking loads of people wouldn't I? No wheels to follow.
My official start time was 7.06am which was halfway down the field. Surely half the field weren't quicker than me? Four other North Roaders had got in: Iain Norman, Paul Upton, Jeff Tipper and Aaron Helmsley. We had all put down different ride times so we all had different start times which was a shame.
Due to a change in circumstances this year I had done very little cycling, concentrating instead on running. My one training ride was a four hour ride two weeks before Ride London. I figured after 20 odd years of cycling I could ride 'on memory' as Chris Glithero would say.
The day arrived. I was up at 4.15, set off at 4.45 and drove to the car park at Lea Valley skate centre (there were about 12 car parks spread around central London). I kitted up and followed the signs for the Olympic Park, about three miles. There were loads of cyclists, and most of them looked like me! The organisation at the start was superb. I can only compare it to the Etape Du Tour. There was an announcer informing us of the lanes where we had to assemble and at what time. There must have been 1,000 riders in each group. My group was called at 6.30. My fear that there would be no toilets in the queue was assuaged when I saw that there must have been 15 portaloos available in that one queue alone. The organisers obviously knew about start line nerves (they also organise the London Marathon).
We were off at 7.13. There were two miles of neutralised zone before the official start but this didn't stop a group from a cycling club (can't remember which one) from doing some early through and off. I tucked in, avoiding the front.
From this point on it was a bit mental to be honest. I had assumed that as this was largely a charity event, with lots of newbies and 'sportive' riders it would be quite slow. It was more like a road race. I believe we went past the Tower Of London and Trafalgar's Square, I am not sure. Large, fast groups came past and I tacked on. There was a group of six charity riders in lime green kit who seemed to be out to prove a point so they rode solidly on the front for several miles, which was nice of them. I averaged 23mph for the first hour. I thought sub 5 hours is on here. The second hour was also at 23 mph. I saw my first North Roader, Paul Upton, I waved and carried on.
I stopped at the second feed station at 45 miles. I needed to get some water as it was now quite hot and I to eat my jam sandwiches. The route now got hilly. I flew up the first climb, Holmbury St Mary, the jam sandwiches had done their job. Then came Leith Hill, a proper hill and it was here that my legs fell off, the early pace and perhaps lack of training taking its toll. There was to be no Strava records for me today. I was glad of my 34/25 bottom gear. The descent was fine, no dodgy riding. Then onto the famed, the feared, the awesome Box Hill. What a joke, it's just a gentle climb with a hairpin in it, though with my stare of fatigue I made it look hard.
As all the roads were closed, even with 16,000 riders there was plenty of space, the funny thing was we all still kept to the left. Spectators were few early on but there were plenty cheering us on in the bigger towns like Leatherhead in the second half of the ride. Hopefully the enthusiasm will catch on for next year.
I caught up with Jeff Tipper at 65 miles and he very kindly let me sit on his wheel (I don't think he had a choice really). I missed the feed stop at 75 miles which was a mistake as I was getting dehydrated but there were feed or drink stops every 10 miles so I could wait. Did is say it was well orgainised? Miles 85 to 95 were the worse for me, I was very tired and where before I could sit in with the fast groups now I was in the small ring on even the small hills. I let Jeff go on.
Fortunately I recovered for the last five miles as it was now very fast again with people gearing up for the 'sprint' on the Mall. We shot into London, past the Houses of Parliament, down Whitehall, lots of spectators and onto the Mall where I did a perfunctory sprint (not like the old days). And we were done.
My time was about 5.09, my average had dropped from 23 in the first two hours to 19.8. My riding time was 5.03.17. I was pleased though as I had expected over six hours. The finish organisation was as good as the start. I picked up my bag that had been transported from the start and met Jeff, Iain and Paul just past the finish area. We chatted for an hour and ate the contents of the goody bag: some nuts, dried fruit, water, and but not the rather random salad cream. We then rode the eight miles back to the car park.
This was a brilliant event, easily the best organised ride I have done in this country. On a par with the Etape du Tour and the London Marathon. How did they manage to close 100 miles of roads in London and Surrey?
There appears to have been a sea change in the level of cycling in this country and certainly a huge increase in number of riders. Six years ago I did the Tour de France sportive, London to Canterbury. I came about 220th out of 3000 riders that day. I expected to do that well, after all I am a racing cyclist. There are no rankings published for the Ride London but based on a small sample I reckon I came in the top 3,000 out of 14,500 finishers. So alot further down the field than the Tour sportive (not quite as fit as six years go). And most of the riders who went faster than me are not club cyclists. These are guys who concentrate on sportives, do not race, have hairy legs, do events for charity, train with their mates and do not join a club. Something perhaps for a club like the North Road to think about.
Official finish times
Richard Somerset: 5:09:34
Paul Upton 5:18:34
Aaron Hensley 5:41:00
Iain Norman 5:13:10
Jeff Tipper 5:16:51
Fastest was about 4.05
The start area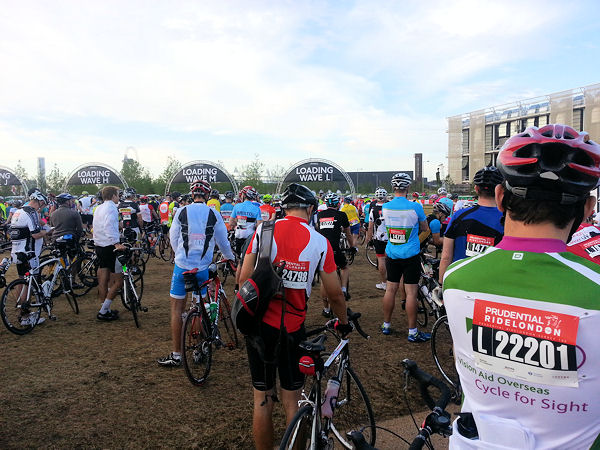 Start line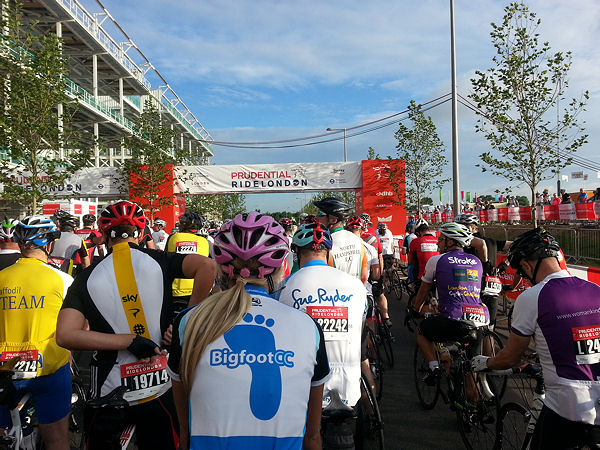 Finish on the Mall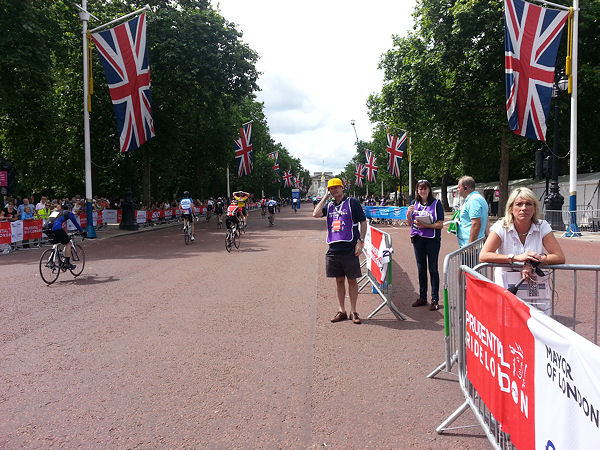 Jeff Tipper and Richard Somerset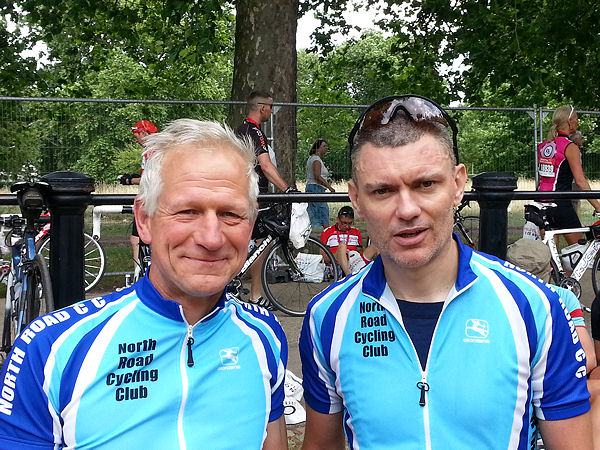 RJeff and Paul Upton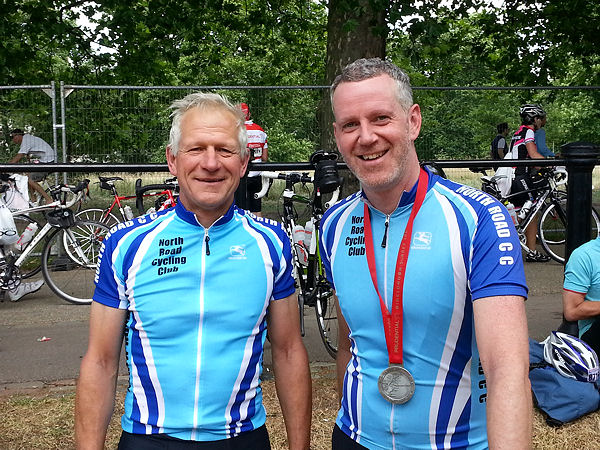 Iain Norman