Central Cross League: Round 13 – Corby
Sun 15 Jan 2017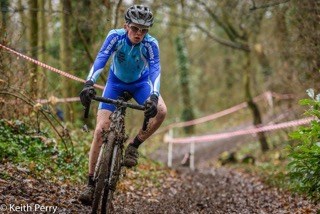 Candy Crush Saga
With a gap in the fixture list for the Eastern League a visit to the Central League was in order for regular crossers McDowall and Holland, but with the risk of "Thunder Snow" earlier in the week and forecast of a cold and wet day John took an early decision to stay warm and inside.
Nick Candy was also making an appearance in the Juniors starting just ahead of the V40s.  Nick was gridded on the front row in a small Juniors field, and Bryan was 3  further rows back. Nick got off to a reasonable start and was soon seen disappearing up the course while the Vets awaited their whistle.  
On the whistle Bryan took advantage of a wide long starting straight before the first pinch point and worked hard to get through the field into a good position, reaching the first set of turns in around 10th.  The field was definitely finding the conditions challenging, as although the rain had departed the mud was spread deep and wide across the course and there was little escaping it. The field work was leg sapping, with plenty of slippery turns and off camber to test skills. Then the course entered the woods, where the mud changed to something slippery and was joined by roots and some bumpy stones. Riders had some choices to make around tyre pressure balancing traction progress in the mud vs. bottoming out on the rim through the woods. Bryan had gambled and gone with as low pressure as he dared (and then a little less) but it was paying off and he felt in control of the bike despite the mud,  coming into the last part of the first lap he saw Nick ahead of him trying valiantly to get off the ground having slid while on foot on a tricky ascent.
Nick jumped back on his bike  for the descent only to have it slide beneath him and he was down again, this time requiring Bryan to find an escape route to right to avoid a North Road pile up.  Shortly after Nick withdrew from the race (presumed mechanical).  Bryan battled on for a further 4 laps slowly collecting more mud on the bike and the going getting increasingly tough and it was a relief to see the line appear.
Bryan finished 9th in the Vet 40s, 3:29 behind the leader Greg Simcock of Team Corely Cycles.
Report: Bryan Holland