Eastern CX League 15 - SouthWold
Sun 18 Dec 2016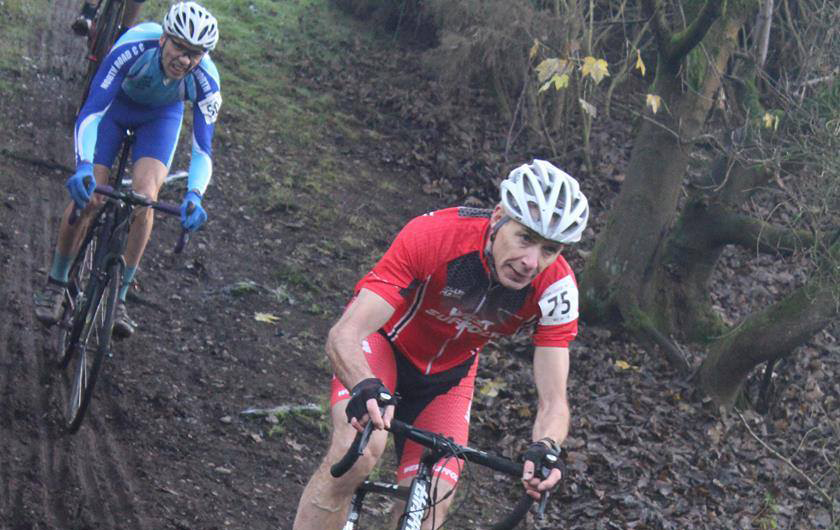 Suffolk Fest
A two hour drive to Southwold on the Suffolk coast on what is the very outside environs of the Eastern CX League empire for our North Road CX'ers.  Set in  the grounds of a Mr Chips style private school the course started with a big loop round the rugby field before  a tight corner into some tricky out-and-back single track.    Thereafter the course snaked about through a multiplicity of corners.  With no elevation to speak of, and no dismounting required, it was big chainring action all the way in a kind of relentless no recovery CX way.
John McDowall racing in the Vets 40-49 race got away in good fashion and was well inside the top ten early on.  A steady slipping down the field occurred more because stronger riders where coming through rather than any particular faults on John's part.  A slightly weary last lap was the only black mark on some solid racing from the improving North Roader.
John came home in 11th place at +1.50 down on Stephen Mahon of East London Veto who won the race with six laps in 42.21 (68 riders with two DNFs)
Bryan Holland had a steady start in the Vets 40-49 race before fighting hard to pick off and pass riders that had got ahead.  In the end a mano-to-mano battle ensued with a regular rival from the Ipswich CC that went against the North Roader right at the very end of the last lap after some thrilling racing.
Another very good result for the North Road with Bryan finishing in 13th at +3.35,  The winner was Robert Purcell of Neon-Velo Cycling Team who completed six laps in 40.19 (50 riders with two DNFs)