Central CX League 10 - WGC
Sat 26 Nov 2016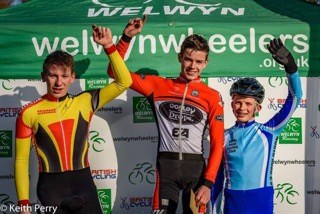 Nick Candy on the podium
A return to WGC for the second race at this venue but in the Central CX League.  A great days racing on a pleasing course with a stunning debut for Nicholas Candy in the Junior Boys category.
After a successful debut season of TT at Brickendon Nicholas Candy took to the starting grid for his first CX outing.  An understandably steady start was soon eclipsed as he got into the swing of 'sprint-out-of-corners' CX riding. He quickly gained in confidence slicing  through the field showing real aplomb at newly mastered skills.  A dropped chain on a bumpy descent cost his a chance of second place but still a highly creditable third spot, and a trip to the podium, was a deserved return for a highly encouraging performance.
Nicholas completed six laps in 39.29, just eleven seconds down on second, and one minute and 14 seconds down on the event winner, Evan Carter of Team Corley Cycles. 
John McDowall and Dave Kiely where next off in the Vets +50 race. 
John was 16th, Dave 64th, with Steve James of Hargrove Cycles winning by completing seven laps in 43.37.
Central League regular Paul McGrath was our only representative in the Senior Mens race.   Only 54 starters but a quality field belied the lower numbers.  After holding tenth place an error saw Paul drop down to 18th.  After working his way back up the field Paul locked horns with two riders from Corley Cycles who raced hard, and as a team, to distance our man.
A fine 13th spot for Paul (10 laps in 1-03.32), sandwiched between the two Corley riders.  The winner was Joe Peake of CC London who managed ten laps in 59.39.