Central Cross League Round 15 – Misterton (Lutterworth)
Sat 28 Jan 2017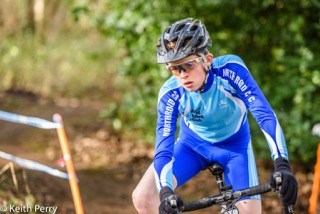 A small contingent from North Road made the trip up the M1 to South Leicestershire for the last round of the Central League.  A fun course awaited set in the grounds of a country house, with a good mix of fields, hills, woods and garden paths and some muddy sections for good measure.   
Nick Candy set off first in the Juniors in search of better luck after recent race mechanicals. Unfortunately, little was to be found and he suffered a puncture early in the race, the only consolation being that it was not the furthest point from the pits, where with some assistance he was going again. Nick looked strong finishing 7th in a field of 8, but his lap times showed just how much that mechanical had impacted.  
Bryan Holland started a minute behind Nick in the V40's which had a number of visiting riders from the overlapping Midlands league.  A good start saw him get into the top ten in the initial lap and riding the technical sections well. However on the long straights he was losing time and drifting back. Coming into the last lap he was holding on to the wheels of two riders who had just passed him. Knowing that they would have the better of him on the same section on the last lap he decided he needed to attack and set off trying to lose them before they got there. This proved not so easy and a real battle (so common all through the field in most cross races) ensued. This ended with mixed results, dropping one rider, but the other inevitably dropping Bryan in turn on the expected section. Bryan finished in 13th place from 66 starters. 
Bryan Holland