Bovingdon Bomber Crit Series #12
Wed 01 Aug 2018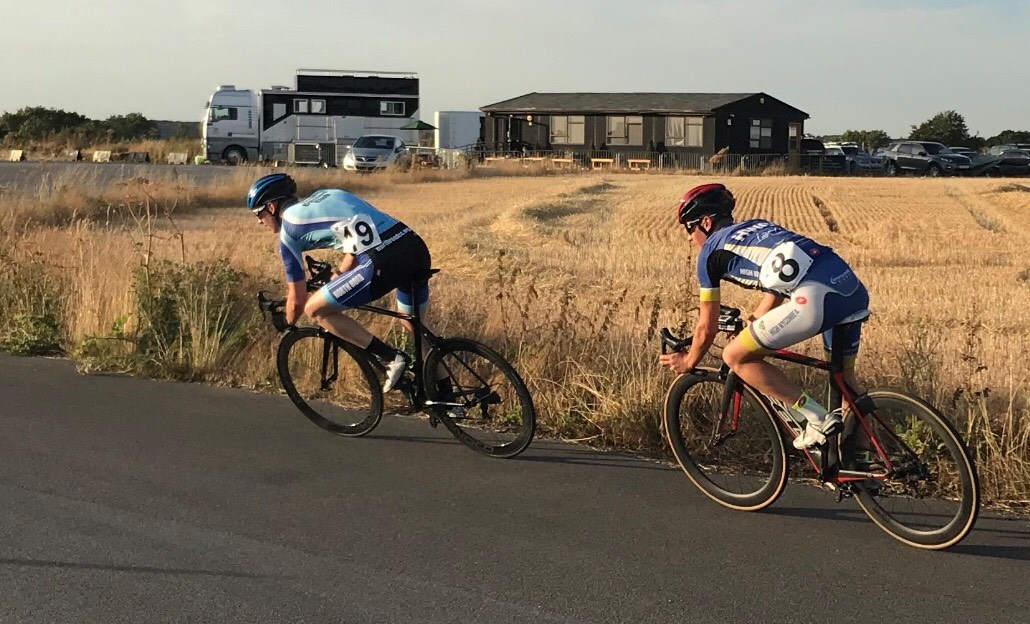 Hugo in top two
Hemel Hempstead CC.
Hugo Evans took part in this 3/4 category crit race held at Bovingdon Airfield, on a warm but breezy evening Hugo held off for at least 2 laps before attacking off the front to test the field and to see if anyone wanted to form a breakaway.
With nothing doing he went back to the bunch to conserve energy. 15 minutes later 2 High Wycombe CC riders went off the front, with Hugo sensing they were strong riders he jumped across to form a 3 man group. Riding together they forced a gap with all 3 kicking out at every corner, fully committed they increased their lead, 5 laps later one of the Wycombe riders dropped off unable to keep pace. With both riders on their own now going full gas they gained over half a lap, seeing the advantage increase the bunch stopped working together and realised the race was up the road and gone.
For the next 30 minutes the duo continued working well until the bell lap when the cat and mouse began with both riders trying to position themselves for the two man sprint. With 150 metres to go with Hugo on the front, the Wycombe rider got the jump on him to edge Hugo into 2nd place. Despite not getting the win Hugo was not disappointed as he had given 100% effort to get into a possible race winning position.