Lands End to John O Groats (Part 2) by Tony Shoesmith - PHOTOS ADDED
Lands End to John O'Groats 2008 - by Tony Shoesmith
Part 2
Day 6 - Weaverham to Kirkby Lonsdale, 76 miles, av 13.6 mph
We were not looking forward to today as the weather forecast was terrible and we had to route through some very built up areas. We set off in the driving rain and general grayness. We rode through the towns of Warrington, Wigan, Preston and Lancaster and the rain never stopped, every street looked depressingly like Coronation Street. Eventually we started to head out on country lanes towards Kirkby Lonsdale, along the outskirts of the forest of Bowland. The sat nav had fallen off Simon's bike earlier in the day and had bounced down the road before landing on the grill of a drain never to work again so we had to resort to the paper maps but in the rain they were starting to fall apart. At one point we were climbing a short sharp hill on the approach to a mini roundabout and rather than stop and get the map out again I asked a local lad for directions, 8 miles later we realized he had sent us the wrong way. Simon wanted to go back and have words with him but I managed to find another route which meant we only had a 12 mile detour, (see photo of the moment I realized we had been sent the wrong way). It was a lesson learnt; from that moment on I never relied on directions from anyone. Now that we were off the main roads the scenery was stunning but the rain was still falling. We rolled into Kirkby Lonsdale very wet but pretty fresh as it had turned out to be a relatively short day at only 76 miles. Tomorrow we were climbing out of the Lake District and heading into Scotland. I think our bodies were used to being tired now as it seems relatively pain free but I may end up regretting that comment. That evening we stayed in a wonderful Seventeenth Century Inn but Simon found something crawling about in his salad during the evening meal; he complained and got a free steak out of it – bonus, and the caterpillar added to his protein intake.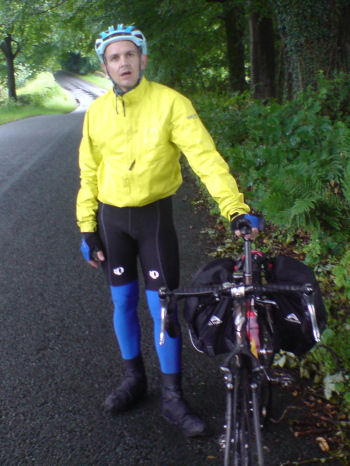 Day 7 - Kirkby Lonsdale to Gretna, 69 miles, av 13.5 mph, Scotland here we come.
The day started with a fantastic breakfast, the weather was still naff (grey and overcast) but the countryside was lovely and we saw plenty of buzzards and other birds of prey hovering over the fields. We knew we were in for a bit of climbing today but felt fresh and were ready for anything. The climbs out of the Lake District were steep but not that long luckily and the views were awesome.Wwe rode through Tebay and Orton and up a steady 3 mile climb to Shap Fell (see photo). We had been warned about this climb but it turned out to be fairly easy. As we were riding through a small town called Clifton I could hear a loud rubbing noise coming from Simon's bike. He pulled over immediately to find that his pannier rack had broken and was resting on the rear tyre. As there was nothing local, not even a shop of any kind I had to phone my dad back at home and explain the situation. He called a cab firm from Penrith and a taxi came out to meet us. Simon crossed his palm with plenty of silver and gold and the driver took the panniers and rack to a bike shop in Penrith. We rolled into town not far behind. Simon was flying along at this point without the weight of the panniers. The rack was soon fixed and after buying a few gels we were on our way. Then the skies opened and the ride from Penrith to Gretna was probably the most wet I have ever been on a bike. If anyone is ever thinking of going to Gretna don't bother, it was one of the most depressing places I have ever been, why people would want to start their married life there I have no idea. Still the B&B was warm and dry, unfortunately the food was awful. Today was definitely a ride of two halves; the morning was tough yet enjoyable cycling, the afternoon was wet, miserable and very grim. Overall though we were really enjoying the trip and were hoping that we had the best days to come.
Day 8 - Gretna to Cumnock, 68 miles , av 12.6 mph
We left Gretna nice and early and headed west along the coastline for a couple of hours. This was the first time we hadn't had a tailwind and it was slow going. The weather couldn't make its mind up and the wet weather gear was going off and on. The roads were pretty much deserted with cattle fields and rolling hills on either side of the road as we passed through Annan and Blackshaw to Dumfries where we found a café and stopped for a large slice of lemon meringue pie and a mug of tea. The ride from there to Cumnock was pretty hilly and as has been the theme recently the heavens opened and we got soaked. Even though it was a really short day at 68 miles we both felt really tired and I really struggled today, the legs felt empty. It was definitely the most fatigued that I had felt since the trip began. The ride through Sanquhar was quite enjoyable though as we had a large fast flowing river on our left and rolling fields of highland cattle to our right. The road was quiet and the road surface was excellent. We arrived at our accommodation and were pleasantly surprised to find that we would be staying in a cottage by the side of a small Loch and each room had its only whirlpool bath and satellite TV. We had booked all of our B&B's on the internet weeks beforehand and had opted for bargain deals where possible but this was definitely at the top end of the scale from a luxury point of view. After a relaxing bath we headed over to the restaurant for a massive steak and a mingle with the locals who had turned out for a traditional Scottish wedding. After one pint I was shattered so it was back to the room to watch Wimbledon highlights on the plasma TV. I wanted to get a good recovery as today had been a struggle and I was hoping that a good bath, a good meal and a good night's sleep would put me back on track.
Day 9 - Cumnock to Ardlui, 86 miles, av 13.6 mph
Today I woke up feeling fresh and raring to go. After a good breakfast of Scots Porridge Oats and a lazy start we headed off at 9am to something we haven't seen in a while, the sun!!! The ride through Kilmarnock up to Paisley was pretty fast with a good tailwind and we made good progress on the drops taking turns at the front. The route towards Loch Lomond took us over the Erskine Bridge. Thankfully as it was a Sunday the roads were pretty clear. We stopped to take some photos from the top of the bridge before picking up a cycle track (route 7). This was great, no cars and it wasn't raining, the track followed the river for approx 20 miles through Alexandria to Balloch on the most southern point of Loch Lomond. Our destination that day was Ardlui which was on the North West bank of the Loch so in our minds our cycling for the day was almost done, we didn't realize that the loch was actually 27 miles long, and it felt every bit that long!The views were stunning; however like most days the heavens opened, then I punctured in a place called Luss and we got drenched. We arrived at our B&B like drowned rats again but on the whole it had been a good day and I had felt strong all day. Tomorrow should be the highlight from a cycling point of view as we climb Rannoch Moor to Glen Coe. No doubt it will be raining but at least we were used to that.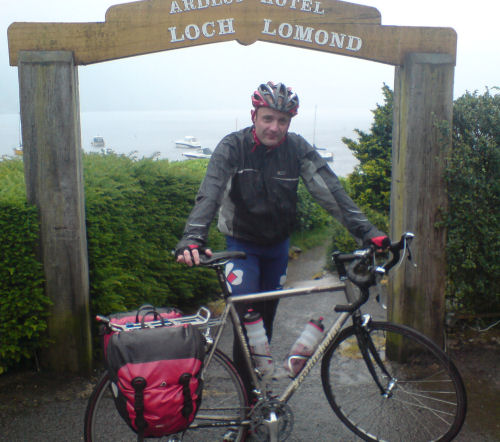 Day 10 - Ardlui to Fort Augustus, 90 miles, av 15 mph
We were both excited about today; we knew that the views were going to be stunning and although there was quite a bit of climbing involved the hills in Scotland tended to be gradual and long but not too steep, unlike Cornwall. The puncture that I had repaired yesterday had held firm overnight so we set off. Shortly after leaving the B&B we came across the Falls Of Falloch which were stunning, then we rode through Crianlarich to the Bridge of Orchy. The scenery changed quickly and we felt dwarfed by the large mountains either side and in front of us. The climb was steady for about seven miles to the top and even with the panniers we were going at a nice steady 10 mph. The views were absolutely amazing with clouds just above our heads and snow on the peaks of Glen Coe. It must have been the altitude as most people drove like maniacs. I couldn't understand it, we were at arguably the most beautiful, rugged place in the UK and people felt the need to drive at over 70mph. Both of us were nearly hit by cars that were going way too fast. One car appeared to slow down just after missing us. I was hoping he would stop as I was more than ready for an argument but he must have decided against it after seeing us waiving our fists and cycling towards him and he sped off down the road. It was getting really dangerous by now as the road (the A82) was single carriageway but not very wide and cars would not wait behind us, they were overtaking us on blind bends at ridiculous speeds causing oncoming traffic to veer off the road, we both felt that an accident was waiting to happen. We were looking forward to the long descent to Fort William and on the way down a car in front slowed to take in a view of the Black Mountains and a 4x4 that was going way too fast swerved left to avoid the car and drove between us and the car and disappeared off the side of the road and dropped 30 ft into a ravine, crazy!!!! We clambered down to check on them, amazingly two guys got out unhurt. By this time we were a little shook up and just wanted to get off of the main road but there were no other possible routes down from the mountains so we carried on as fast as we could. As per normal the weather turned bad and it chucked it down. As we were still fairly high up it felt cold and Simon's hands went numb which made for an interesting descent. Once we reached Fort William we stopped for a mega lunch of smoothies and bagels and coffee. Once fuelled we enjoyed some tremendous cycling past Ben Nevis to Loch Lochy, the water in the loch looked Black where it was so deep. We then rode past Loch Oich and eventually arrived at Fort Augustus on the southern banks of Loch Ness. Today was action packed and definitely the most interesting day so far and we had ridden well: ninety miles at an average speed of 15mph. With two days and 170 miles to go we knew we were getting close. We had a slight "Planes, Trains and Automobiles" moment when we arrived at the B&B, we walked into our room to find one double bed, ooops. We both looked at each other in a panicked state but luckily the owner walked in behind us with a folded camping bed We flipped a coin and I lost so Simon stretched out in the double laughing at me trying to get comfy on what can only be described as a sun lounger.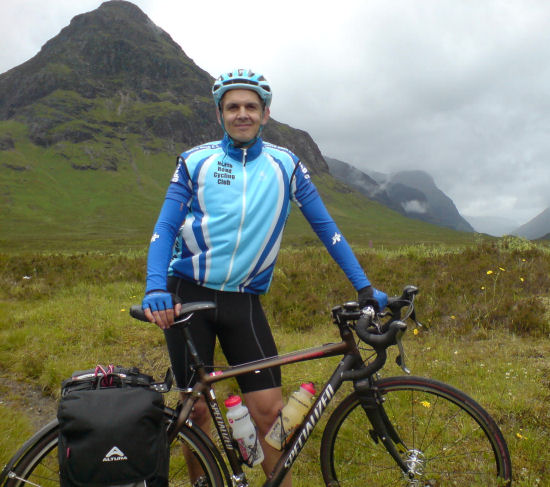 Day 11 - Fort Augustus to Bonar Bridge, av 13.9mph, 68 miles
After a continental breakfast we left Fort Augustus early and cycled along the west coast of Loch Ness to Drumnadrochit. We were still on the A82 but it was slightly quieter than yesterday although there were still a fair share of idiotic drivers about and we had to ride very defensively to avoid being driven off the road. The weather was drizzly but by now that felt tropical. The book that we had been using to help map our route describes the next section as "the route now continues upwards and does not give up without a fight" and it was right. We followed a quiet B road to Milton then turned right to a sign showing an 18 percent hill ahead for one mile. I bet Simon £100 that he couldn't get to the top. It was safe money as he couldn't and neither could I so we both walked up it together in the rain. Near the top we climbed back on and rolled along for a couple of hours through a wilderness of hidden Lochs and purple heather. We stopped in Beauly for a toasted sarnie and a giant slice of coffee cake. Then it brightened up and the afternoon's riding was off the beaten track and had the best views yet through a forest overlooking our destination – Bonar Bridge. We arrived feeling quite fresh but unfortunately our accommodation turned out to be the most disgusting hotel we have ever stayed in. We were moved out of the first room due to the damp being so bad that the quilts were wet. The next room wasn't much better with spider webs everywhere with dead cockroaches on the floor and window ledges. We decided against eating in the hotel and found a local spa and bought flapjacks and muffins and made do with that for dinner and breakfast the next morning. Tomorrow is out last day, 100 miles to go.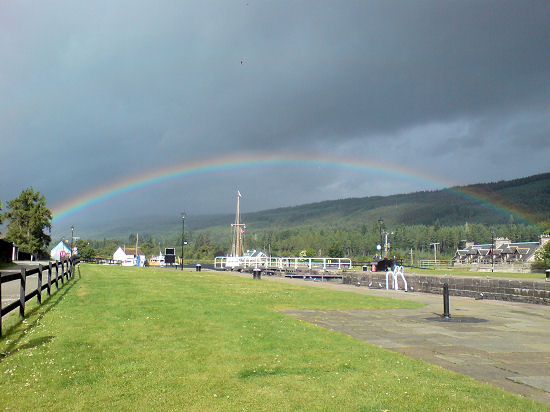 Day 12 - Bonar Bridge to John O' Groats, 100 miles av 13.6mph
We woke up early to glorious sunshine and not a cloud in the sky. Neither of us had slept that well, we had a makeshift breakfast and were out of the door by 7am. We left our dump of a hotel behind us and began the long climb out of Bonar Bridge.After about an hour we hit the A9 road that headed straight up the east coast, then we came across our first road sign for John O' Groats – 88 miles to go. This was tricky because psychologically we felt like you were almost there but the coastal road was undulating and the side wind was strong and we still had some work to do. As it was our last day we were out of gels/bars so we stopped for a cuppa and some food just before the town of Helmsdale. We knew that we had a few tough hills coming up but we were ready. The hills came sooner than we thought and our bodies were still trying to digest our lunch as we took on the first of three climbs at about 13%. The climbs were great with glorious views out to sea; we also saw an eagle souring high above us – fantastic. The next few hours were slow going, we had ridden within 50 yards of each other for most of the trip but a gap of a few hundred metres had gradually opened up allowing us to ride alone and give us time to reflect on the past eleven days. We eventually arrived in Wick; this was the last town between us and our final destination. We rehydrated ourselves and used the loo then set-off for the last time. The sun was still shining but the coastal wind made it feel cool, and we only had sixteen miles to go. The road was undulating and we were really tired by now but we dug in and eventually crested our last hill and rolled down into John O' Groats mid afternoon. We had made it! The bike computer said we had ridden 1002 miles; it had taken eleven and a half days. It was a slight anti-climax as there is absolutely nothing at John O'Groats, even the last remaining pub was closed for ten months due to renovation work so we couldn't even get a beer. We had our photos taken in front of the famous sign, shook hands and jumped back on our bikes to ride back to our B&B which was 8 miles away in a the small village of Keiss. In a strange way that eight miles was the toughest part of the trip because my body had almost physically packed up once we reached John O Groats probably due to the fact that psychologically we knew we had made it. Once we had showered we headed to the Bar with the intention of getting outrageously drunk but a few pints and a curry later and we were both falling asleep and decided to call it a night. All in all it has been an amazing experience, the weather could have been kinder and the British motorists were awful but we had cycled from End to End and the great thing about travelling on a bike is that you can see, smell and taste the places that you go through; in my mind there's no better way to travel. My bike (Specialized Tricross) had performed admirably, we had seen some wonderful places and met some wonderful people and we were both really chuffed to have made it. Next time though I think I'll do my touring overseas where hopefully they'll be less rain and drivers that are more cyclist friendly. I would recommend it to anyone as something you should try at least once. I am going to miss having cycling as my main focus each day, going back to work will be a struggle but I'll always have the memories and photos to remind me of a great adventure.