Lands End to John O'Groats (Part 1) by Tony Shoesmith
Lands End to John O Groats June 2008 - by Tony Shoesmith
Saturday 21st June, 6:30am (photos to follow)
Leaving my Parents house in Greenwich for the ride to Paddington station, the beginning of a great cycling trip.
Day 1. Greenwich to Paddington, then Penzance to Lands End and on to Truro
Riding Time Approx 5 hours , Distance 70 miles, av 13.3 mph,
Day one started early with a cycle ride from my parents house in Greenwich to Paddington station in the pouring rain. Met my mate Simon and we caught the train to Penzance. It was a scenic journey and the five hours passed quite quickly. There was a fellow 'end to ender' on the train planning to complete the journey in three weeks with no panniers, just a bumbag under the saddle, hence no spare clothes. Bet she'll smell nice in a couple of weeks we thought!!.
At Penzance it was still raining, we turned Simon's Garmin SatNav on and got lost within five minutes. The rain eased slightly after ten mins so we stopped to take the wet weather gear off as we were too hot, Five minutes later we stopped and put it back on as it started to pour down again. At this rate it would take three months.
We decided to take the direct route to Lands End rather than the coastal road as it was so grey and wet and the clouds were so low that you couldn't take in any of the coastal views anyway. With the wind, thick mist and hilly terrain it was definitely a case of being thrown in at the deep end.
At Lands End we signed the 'End to End' book and had our photos taken at the famous signpost and quickly headed off as it was 4pm and we had to get to Truro. Luckily the wind was now behind us and we were soon back at Penzance to get (you guessed it) lost again. Anyway we found our way eventually and headed off down the very busy A30. Thankfully we were only on it for a short while then we carried on over rolling hills and back roads to arrive at the guest house in Truro a couple hours later.
Once we had showered and hung our wet cycling gear on the one tiny radiator we found a nearby pub and ordered a mountain of food and a well earned pint. The adventure was under way but we knew we had a long way to go.
Simon and Tony at Lands End, raining and miserable, this set the tone for the weather to come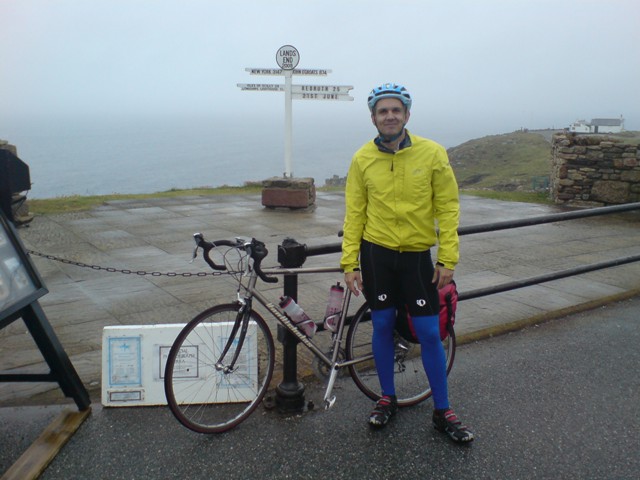 Day 2. Truro to Crediton

Riding Time 7hrs 22 mins, Distance 93 miles, av 12.6 mph,
Well today was always going to be the hardest day with our route totaling over 5000 feet of climbing and it certainly felt like it. In all we did 93 miles at a slow 12.8 mph average. The climbs through the Cornish towns of St Austell, Par, Lostwithiel, Liskeard, Callington and Tavistock were all ok in isolation but consecutively with the weight of the panniers they began to wear me down.
We eventually stopped for a Cornish pasty before ascending to Two Bridges in the Dartmoor National Park which was steeper and longer than expected. By the time we got to the top I was literally seeing stars, I'd had to climb out of the saddle for most of it (and stop in places) and was exhausted.
It was at this point that I started to think that maybe I wasn't going to be able to make it to Somerset let alone John O Groats. The views from the top were stunning but it was mega windy.
We then continued to climb through Moretonhampstead towards Exeter and eventually to Crediton. A brain dead farmer nearly hit me with his tractor on the climb to Callington. Apart from that, traffic wasn't too bad. I am never going to complain about hills again when I am out on my race bike with no panniers after today's cycling.
We finally arrived in Crediton feeling weary. We stayed in a farm house fifteen minutes walk from town, could have done without the walk but the curry in the local Tandoori restaurant was well worth it so again we ate for England.
Met a father and son team that were also doing the End to End ride; they planned to do it over 3 weeks and get drunk at each location. They asked us to join them that evening for a few pints but after the day's riding one small beer was enough for me, then I was ready to sleep (lightweight).
The locals kept warning us about the steep climb from Crediton to Tiverton that we would have to do first thing tomorrow but after today's climbing we thought we could handle it. After tomorrow we were expecting a few flatter days.

Photo is of Dartmoor National Park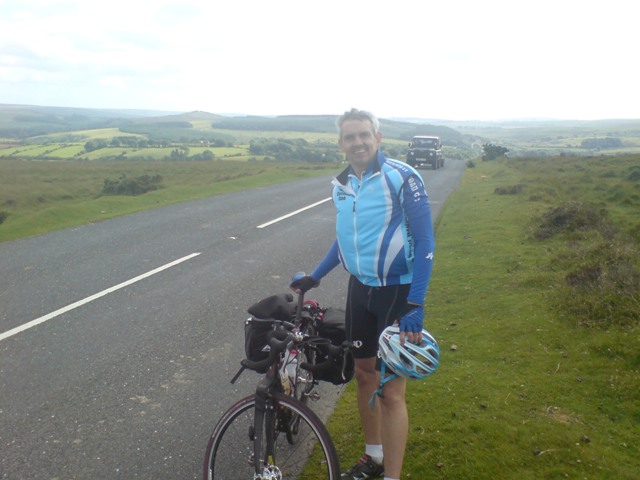 Day 3. Crediton to Radstock

Riding Time 6hrs 17 mins, Distance 88 miles, av 13.9 mph, 2378 kcals
Well the panniers do not feel any lighter but I'm sure we are. After yesterday's exertions the legs were heavy as we set off and straight away we hit the climb that we had been warned about but it seemed to be over fairly quickly and we were laughing at how easy it was until we turned a few corners and realized that the climb hadn't even started! It continued for approx 3threemiles and was a bit of a struggle and not what we needed first thing.
Tiverton was a welcome sight as we knew that the rest of the day would be rolling but not hilly. The ride through to Taunton was great and the terrain allowed our legs to recover a bit. We stopped at Bridgwater after fifty miles for some food and after a good look at the map we plotted a nice quiet route on back roads towards Wells and Shepton Mallet, deciding to cut out some of the Mendip Hills. This proved a good move as we found ourselves rolling along quiet well surfaced country roads at 20 mph on towards Radstock.
As had been the case the previous two days we couldn't find the bed & breakfast and ended up doing a few miles more. However we found it in the end and what a place. Within fifteen minutes we were in their swimming pool cooling off. Then we found a local pub and had a fantastic home made Lasagne. With three days riding in our system our bodies were starting to get used to it. Big thanks to Jean at the B&B who kindly washed and dried all of our clothes (we were starting to smell).

In the distance the Mendip Hills and Cheddar Gorge and a rare sight – blue skies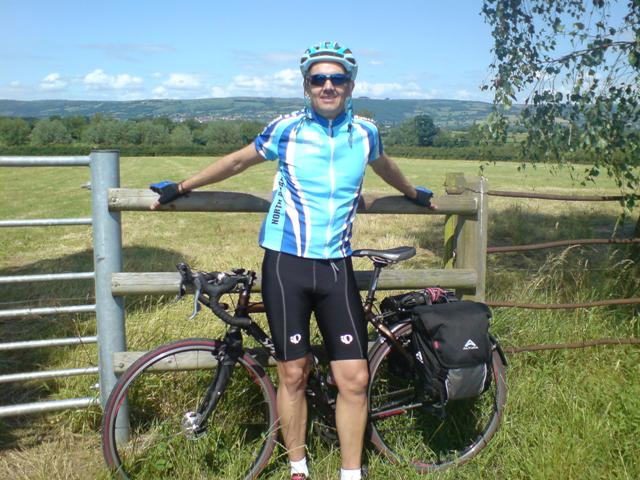 Day 4 Radstock to Worcester

Riding Time 5hrs 44 mins, Distance 82 miles. Av 14.2mph, 2376 kcals
A triathlete (Pete) who lived in the area decided to join us today for part of the ride. He turned up at the B&B at breakfast and had a track pump with him so we could top our tyre pressure up a bit. The plan was to ride through Bath then head north to Stroud and then Worcester. We climbed out of Radstock and then we climbed again out of Peasedown St John and arrived in Bath. As my brakes were not working in the wet we had to find a bike shop to get the brake blocks replaced. As we were starting to get saddle sores two big tubs of Assos chamois cream were also purchased.
The bloke in the shop said that the A46 north was very dangerous and said we should head up past Lansdown race course on a back road. He said it was hilly but short and was only approx ten percent. Well the hill was easily twenty percent in places and went on forever. Pete was without panniers and headed on up, he was struggling and going very slowly to leave us grunting behind him barely able to turn the pedals. Simon made it half way and had to stop. I was behind and after seeing him stop I did the same as I was giving it everything and was only managing 3mph, It was pretty tough to even push the bike up but it was a great view from the top (see photo attached).
Three tough climbs wasn't the best of starts to the day so we stuffed an energy bar down our necks and headed to Stroud for a well needed cafe stop. Biggest tip for anyone doing this is to eat eat eat. Once we were fuelled we were fine and headed north.
At the junction of the A38 Pete headed back to Bristol and we followed the signs to Gloucester. The last couple of hours were on great B roads through rolling countryside and we made good progress. Only downside was that we hit Worcester in rush hour and on a ring road. Thankfully we found the hotel not far from an Italian restaurant with the Cathedral right next door (see photo). We averaged 14.5mph today which wasn't bad. Tomorrow was going to be a longer day so we planned to start early and maybe tweak the route a bit as we have done every day. Nice to meet Peter, was good to be able to sit on someone's wheel for a while, as for the guy in the bike shop with his directional advice, what a plonker!

Top of the hill from that rose from Bath up to Lansdown race course,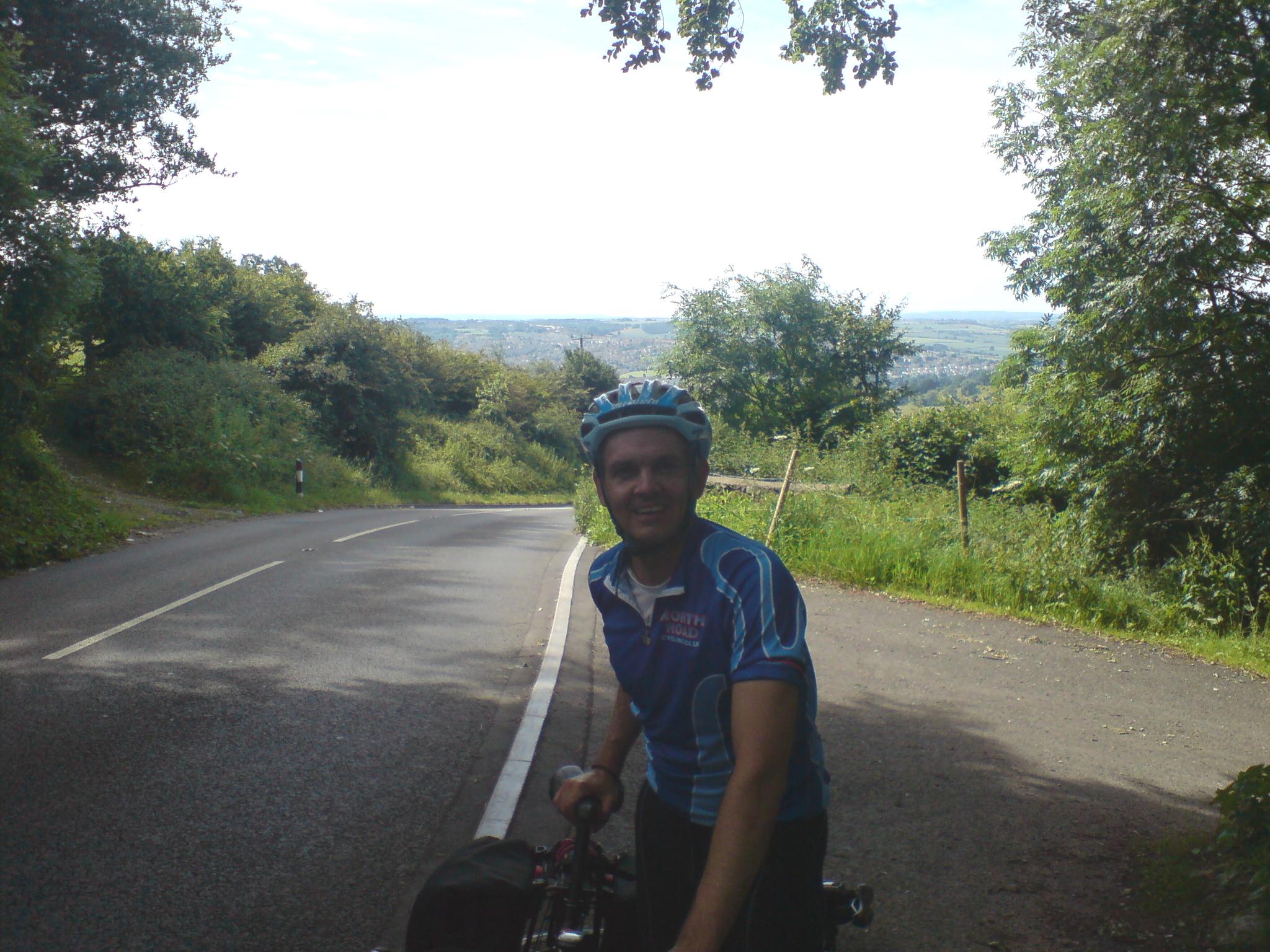 Day 5 Worcester to Weaverham

Riding Time 7hrs 51 mins, Distance 108 miles , av 13.7 mph, 2864 kcals
We left Worcester (in the rain AGAIN!!) and headed out through Stourport-on-Severn, Bewdley and the Wyre Forest, The morning was stop start stop changing clothes due to the weather which couldn't make its mind up.
After a couple of hours Simon was really struggling and couldn't get any power up the hills and he thought he was in for a tough day then we noticed his rear brake was rubbing, doh! We followed back roads to Bridgnorth then had to follow the A442 to Telford, this was hair raising as the traffic was travelling in excess of 70 miles per hour and there were no cycle lanes and it was pouring down. We eventually decided that it was too dangerous after a lorry almost pulled us underneath it and we pulled into a service station to dry off a bit and have a flapjack and a Lucozade Sport.
We then plotted a new route with a slight detour to avoid anymore major A roads. The weather dried up a bit and we followed country lanes through to Whitchurch and Nantwich. We pulled over for a drink and a guy in Lycra came over to chat to us. He was a keen cyclist and his girlfriend was a successful time triallist. He invited us in for a cuppa then rode with us for a few miles. We eventually arrived in Weaverham at about 7pm.
It had been a long day which should have been 96 miles but came in at 108 due to the detour. It was a hard eight hours of cycling but we had started to make some good progress north now.
Worcester Cathedral