Rapha Cent Cols Challenge 2010 Part 1 by Matt Cowan
The Rapha Cent Cols Challenge 2010 - by Matt Cowan
Part 1

I have participated in all kinds of events over the past few years including road races and multi-stage events in the UK, plus some epic long distance sportive challenges in the Alps and Pyrenees, all requiring hours of early morning training rides in the cold, wet, wind, or snow. To me it's all good!
However, everything I'd done on a bike up until now would pale into insignificance. I'd entered the Rapha Cent Cols Challenge 12 months ago and now it was time for the 'Big One'.
The CCC involves climbing 100 mountains in France in ten days, cycling approximately 200km per day, with an average of 4,000 metres of ascension each day.
The event took place in September 2010 with just 30 select riders taking part. Starting from the shores of Lake Annecy and travelling to the heart of the high Alps, it included a tough mix of classic and lesser known but equally testing climbs. The route travelled south to the Cote d'Azur before heading back up through Provence and the Chartreuse region, and finishing back at Lake Annecy. By then nearly 2,000km had been cycled and 40,000 metres had been climbed!
It's the biggest challenge I had ever undertaken and I decided to raise money for the Motor Neurone Disease Association in memory of my Grandmother, Kathy Saunders, whose life was sadly taken by the disease.

At the end of each day I would update my blog from my iPhone to share with family and friends. The following is a copy of each day's blog.

Friday 10th September
Ready to go

Well I'm all packed up and ready to go. Just a day of travelling tomorrow to get to Annecy then I'll be riding on smooth French roads again and hopefully in slightly warmer and sunnier weather than here. Should get a nice gentle spin in on Sunday morning. Planning to ride around Lake Annecy following the route of the final TT course of the 2009 Tour de France. Then feet up for the rest of the day until the riders briefing on Sunday night.
No matter how many times I check I still think I've left something really important out of my bike bag. Interestingly the boxes of Muesli that have been packed in the bag weigh about as much as my bike!
I think I've broken my record for the amount of carbs consumed today. I'm going to need it, should be burning off 6,000+ per day once we get going.

Sunday 12th September
Lazy hazy Annecy
Final day of rest before the big push and stage 1 tomorrow. Met a few of the other riders at the hotel today and went for a leg loosening ride around Lake Annecy this morning. Just 25 miles, very flat apart from one small climb, plus a leisurely coffee stop in Annecy on the way round. Beautiful weather which will hopefully last for the next couple of days as we negotiate our way over the high Alps. Much chilling out this afternoon before the official riders briefing tonight. Talk has all been around this year's epic training rides and key events ridden. I suddenly feel very under-prepared, my room mate rode the whole Tour de France route last year!!!
No aches or pains to report.......yet.
One puncture already yesterday when I was assembling my bike and I hadn't even ridden anywhere yet!

Monday 13th September

Here we go!

Stage 1 - Annecy to Albertville.

We rolled out of Annecy in cool morning sunlight and did a final half circumnavigation of the lake before heading up the first climb of the day. Annecy is a really great place and its clear there's an active sporty and healthy lifestyle. I'm looking forward to the next time I see Annecy I'll have a couple of thousand kilometres in my legs and will have bagged 100 cols – hopefully!
Inevitably 30 keen and fit cyclists were never going to take it easy on the first day and despite the warnings, the first climb Col de Bluffy, was rattled off at quite a fast pace with a selection being made half way up the climb and then a further whittling down of the front group as we crested the Col de Forclaz. I kept up with the quick climbers who were clearly giving it some welly! The toughest climb of the day Plan Bois was just before lunch and included some quite long sections of over 20% gradient so the lunch stop was well received at that point.

Three more tough climbs after lunch including Col de Aravis and Col de Saisies both of which were used in last year's Tour de France with stunning views across rolling pastureland, classic Alpine mountain villages and tons of cows with cow bells breaking the tranquillity. I was third over the final climb of the day before starting the 40km descent into Albertville. I passed the two leaders on the descent as they had stopped to fix a puncture and me another guy pushed hard for the finish to make sure no one would catch us. We rolled into Albertville as leaders of the stage only to come to a halt 500m from the hotel when the directional arrows lead us onto a motorway!! That doesn't happen in the Tour! There was then a regrouping of several riders whilst we tried to find a different route so we all rolled in first. Legs felt good, but even for an 'easy' day we did 95 miles, 7 cols and just under 4,000m of climbing.
Ride time: 6hr 35mins.

Tuesday 14th September

Through the pain barrier

Stage 2 - Albertville to Briancon.

There's only one word to describe today's stage: epic. The pure severity of the climbing and the ascent of some of the hardest and most famous Alpine climbs was enough to seriously quieten the mood over breakfast. We started early to give as much time as possible for everyone to finish in daylight and set off at 7.30am at a surprisingly brisk pace given what was in store for the day. That soon ended when we went over a little 'bonus' climb that Phil the organiser had slipped in after 20km and the group of riders fragmented into many small groups. What was to follow was for me the hardest day I have ever had on a bike. The stats go like this:

Total cols: 9
Main climbs: Col du Glandon, Col de Mollard, Croix de Fer, Col de Telegraphe, Col de Galibier – the latter being the last climb of the day and one of the highest climbs in Europe at 2,700m, enough to feel the effects of altitude near the top.

Total distance: 200km
Total climbing: 5,125m.
Ride time: 9hrs 21mins.

I am absolutely shattered but should feel lucky to have even finished. Some had to take the van back otherwise they wouldn't have made it before night fall. Others crashed on descents and were taken to hospital. It has definitely been a day of attrition and there may be a few more non-starters tomorrow to add to the three that have dropped out already. I have to say a big thanks to the small group of riders that I was part of today, we all helped each other out and nursed each other through the dark times and low points. Big thanks to Simon and Claire, Steve, Carl and Rob. See you on the road tomorrow!

High point of the day: the wide and smooth 40km descent off the Galibier – touching nearly 50mph on the way down was really cool. Low point of the day: the 35km climb to the top of the Galibier and especially the top 2km which was so hard I thought I would never make it and every single part of my body was crying out in pain. From the comfort of my hotel bed I can honestly say I loved every minute of it!


Tuesday 14th September

The Badger

Five time Tour de France winner, World Champion and multi Classic winner of the 70s & 80s Bernard Hinault (aka The Badger) was staying in our hotel in Briancon last night. In the cycling world and certainly in France he is an absolute God. He was one of the old school and ruled the peloton, so much so that he was referred to as Le Patron and had the ability to stop a stage of the Tour if he felt he needed to. The manner in which he won races was awesome, he won in the high mountains, on the flat and could contest a sprint finish, always with his trademark scowl. He famously won Liege Bastogne Liege by riding solo for 200+ miles in the snow and conditions so cold that he lost the feeling in his fingers for months afterwards. He had been out riding with the French U23 world champion on the Galibier yesterday. At dinner we asked him to come over to our table and we presented him with a Rapha Cent Cols jersey. When he found out what we were doing he was genuinely very impressed, told us we were all crazy and wished us all Bonne Chance! It was a great moment.
(BTW for all Tour de France fans they were also recce-ing stages for next year and one stage will go over Col de l'Izoard through Briancon and over the Galibier, get a hotel booked now before the route is announced! Shame he wouldn't give us the date......)



Wednesday 15th September


Au revoir Les Grandes Alpes


Stage 3 - Briancon to Sisteron
.

Sometimes you wake up in the morning and don't quite fancy cycling 200km over 9 cols, especially when the first is the 17km 1,900+ metre ascent of the Col de l'Izoard. That's how I felt this morning, tired and rough, but I always knew stage 3 was going to be physically and mentally tough, as my usual training pattern would mean the body has a rest on the third day. I knew if I got through today then I would achieve an important personal and physical milestone and would probably be OK for the rest of the event. The climb of the Izoard started very soon after breakfast had ended at 7.30am so it was taken at a reasonably steady pace accompanied by many strange 'morning' noises coming from the group of riders to break the still mountain silence! As with yesterday a few of us formed a small group, worked as a unit and were second group on the road all day. Very pleased with that and really enjoying spending time with some great people.
Today had a very different feel about it, the severity of the day before was still sore in our legs, but we knew we were leaving the high Alps and therefore today was going to be slightly easier. The sky was cloudless and although the 55mph descent off the Izoard became very cold at the valley floor, once the sun had come over the top of the mountain line it warmed up considerably and became a hot blue sky day.

There were two things I was looking forward to when I signed up for this event; one was the feeling of taking part in something unique and the other was to see French countryside from my bike that I would otherwise probably never see. Today delivered the latter in abundance. The changing scenery as we left the majesty of the Alps and passed through lower rolling mountains, dived down multi hairpin descents towards bright blue freshwater lakes below, climbed through dense woodland and open pastures, and swept through many tiny but charming villages between Embrun and Sisteron, were all just stunning. We made time to take in the views, had a wonderful lunch stop and there was definitely a feeling of relief that we'd completed a third of the 9 stages by the day's end.

Total distance: 122 miles.
Total metres climbed: 3,512m.
Ride time 8 hrs 1min.

No time to be complacent, tomorrow brings the first mountain top stage finish and well over 4,500 metres climbing along the way.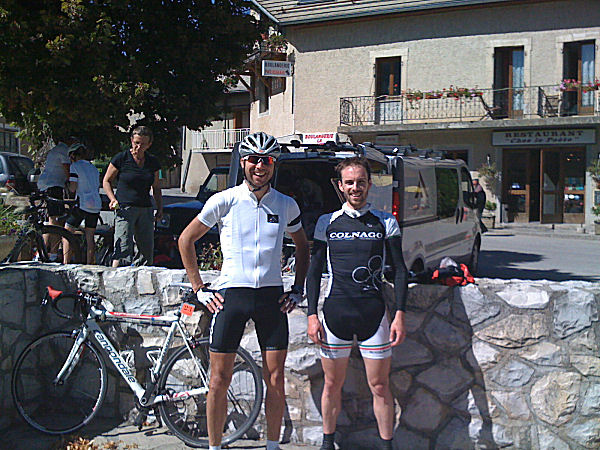 Small villages throughout France (and mountains) characterised the route


Thursday 16th September
A day of two halves

Stage 4 - Sisteron to Valberg.

Today was characterised by three things:

1. The second half of the day was backloaded with the toughest climbs of the stage, the 2,000+ metre Col des Champs followed by the 1,700+ metre climb up to the finish at the ski resort of Valberg.

2. The weather changed from hot and sunny in the morning to cloudy and noticeably cooler by the stage finish. (The weather forecast suggests it may rain tomorrow).

3. I was riding really well during the morning then had a seriously bad patch and suffered like a dog for a large chunk of the afternoon.
The trouble started when we coasted to our lunch stop after a fantastic morning's riding and were presented with a fabulously tasty plate of home made lasagne. Ordinarily you'd need a couple of hours rest after devouring such a heavyweight meal, however this is a challenge ride and everyone was keen to get going again after about 30 minutes.
The next problem was that there was a 30km drag straight after lunch to the foot of the Col des Champs in Colmars and during this transition my body was craving energy that just would not release quickly enough from the lasagne. I really suffered and was hanging on to the back of our group, yo yo-ing and trying desperately not to get dropped. I stuffed all my energy gels and bars in the hope that they would work quicker than the pasta. I think they just sat on top of it and didn't work their usual fast release magic. By the foot of the climb I was feeling really low but stuck to the task and started to climb slowly through the lower section, along with a few other guys who were also struggling. By about half way up the 17km climb I got a sudden charge of energy when finally all the carbs and energy products started to kick-in and I realised I was going to make it out of the very dark place I had been in for the last couple of hours. Thank God! I was then determined to make up the time I had lost so once we'd crested the barren peak of the Champs I put my head down and descended like a demon for 25km to the foot of the Valberg picking off those that had climbed ahead of me. It was an awesome feeling!
The final few km of the Col de Valberg were largely uneventful, just a 15km drag up to the ski resort at the top and a very welcome feast of peanut butter baguettes and recovery drinks waiting for us as we checked into our hotel.
Lessons learned today: this event is extreme in lots of ways and the most significant is how your body responds to, and recovers from, the physical exertion and the effects of riding long distances over challenging terrain day after day. A big part of this is the refuelling strategy. I am burning approx 6,000-7,000 calories per day, more than you can put back in from normal daily intake, and food choices are really critical. Unfortunately today the lasagne didn't work for me, something I would never have known in normal circumstances. This event is a voyage of discovery in many ways!!
Today's stats:

Total distance: 116 miles.
Total climbing: 4,300 metres.
Total cols: 8 today (33 in total).
Ride time: 8hrs 7mins.




At the 'fateful' lasagna lunch stop! I was all smiles at that point…