Rapha Cent Cols Challenge 2010 Part 3 by Matt Cowan
The Rapha Cent Cols Challenge 2010 - by Matt Cowan
Part 3

Wednesday 22nd September

Bite sized chunks

Stage 9 - Vassieux to Montmelian.

Every night after dinner we have a rider's briefing from Phil where he details the next day's stage. The zig zag line drawn from left to right on the chart represents the cols we will be climbing. Every day it looks like he's drawn a set of shark's teeth! To be honest, we've all come to accept that every day is a hard day and the line on the board doesn't really seem to change much from the previous day's chart. Always lots of zig zags with varying degrees of height and steepness.
However, there are three points on the route that everyone really pays interest in; the locations of the morning snack stop, lunch, and the afternoon snack stop. These stops divide the day into manageable chunks, usually with anything from two to five cols between each, and give the riders the opportunity to refuel and take a few moments to get off the saddle, change kit where required, take more Ibuprofen where needed and, most importantly, check the route to see how many cols there are before the next food stop.
Claire, Phil's wife, runs the snack stops brilliantly. Over the past few days the silver van parked by the roadside has been a very welcome sight. It is always well stocked with fresh drinking water to mix energy drinks and refill water bottles for the bike, plus a whole range of foods to supplement the energy bars and gels we carry in the back pockets of our jerseys. Strange things happen to your taste buds when you've been cycling for six or seven hours eight days on the trot. Whereas your energy food of choice may usually have been bananas, when presented with a huge selection of fresh pastries, peanuts and Haribo for example, suddenly your needs completely change. I have developed a childlike craving for Nutella, spread thickly onto sliced baguette, something I don't think I've eaten for 30 years! It's something I really look forward to at the snack stops and it's definitely kept me going for the last few days. Claire is always ready and waiting for us to arrive, makes sure we get what food we need, and then sends us on our way with a smile and a wave. Thanks Claire, I'll be missing you next week.
Today's second snack stop came after 100 miles and I had been hallucinating about it for the previous 15. Everyone seemed to be really feeling today's stage. It was long (209km) and hard (15 cols, 4,900 metres of climbing) and every climb seemed both long and steep. We rode brilliantly as a group pushing on through the Vercors and into the Chartreuse region, helping each other out through the difficult sections of the climbs and flowing smoothly in a well ordered line down the fast descents. The snack stop was at the end of the 13th col, I was down to my last couple of mouthfuls of water, really feeling the pain in my legs and was looking for the parked silver van expectantly around every corner. When it did appear in the distance and we finally reached it, I couldn't get off my bike quick enough and the Nutella has never tasted so good!
Tonight's briefing was the last as tomorrow is our final stage. Luckily there will be even fewer chunks to break the day down into as the route is shorter with less cols to give us the chance to finish at lunch time for a well deserved celebratory meal! It's been a long time coming...
Today's stats:

Total distance: 130 miles.
Ride time: 9hrs 19mins.
No of cols: 15 (105 in total!).
Total altitude: 4,900 metres.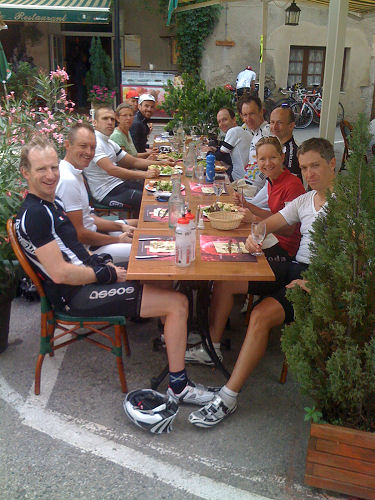 Lunches were always quite a civilised affair
Thursday 23rd September
Done it!

Stage 10 - Montmelian to Annecy.

It's all over. Total of 109 cols climbed in 10 days. I am exhausted, but also incredibly chuffed to have completed the Cent Cols Challenge. It's been an amazing 10 days and I've had the experience of a lifetime, met some great people and seen parts of France from my bike that I didn't know existed. I've had so much support from family and friends and there have been many times when I've drawn on that support to get me through the day. Thanks to everyone for your words of encouragement. It was tough but hugely enjoyable.

Today has been a bit of a blur, but I'll order my thoughts and write later. Cold celebratory beer beckons!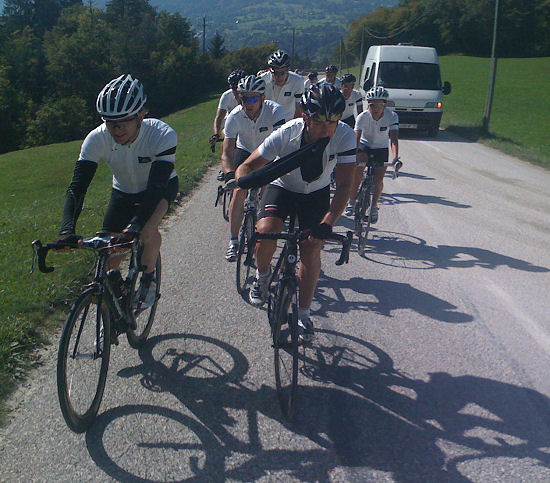 The last climb, col no. 109, the Col de Semnoz

Friday 24th September

The day after

Zero cols!

For the first time in weeks, maybe even months, I was happy to not have to ride my bike today.
Yesterday had felt like the last day of term. We had 50 miles to ride and four cols to climb before we finally reached Annecy by lunchtime. We were allowed a short lie-in and an 8am start and for the most part the stage was ridden at a processional pace, with all riders proudly wearing their Rapha Cent Cols jerseys and riding as a 30-strong group, excitedly heading towards the Col de Semnoz which would be the 109th and final climb of our challenge. It felt like we were Tour riders heading towards Paris before the action finally hots up on the Champs Élysées!
We'd already hit our 100 col target during stage 9 and these were now bonus climbs. The weather had smiled on us throughout the previous 10 days so none of the 'snow detours' from last year had been required, so the extra contingency cols provided had just added to our overall tally.
The riding was slick, the mood was relaxed, the descending was fast and the few climbs of the day, although still quite tough, were ridden smoothly and efficiently, as you'd expect from experienced riders with over 100 cols in their legs.
The final col was a beautiful 14km climb through quiet forested roads and it took all my concentration to stay focused and maintain my climbing rhythm amongst our group of 10 or 12 riders, when all I wanted to think about was reaching the summit and getting off my bike so I didn't have to feel the pain in my legs anymore. I felt elated and honoured to be amongst a group of riders that had endured everything that had been thrown before them over the past 10 days and were about to complete what was undoubtedly the hardest cycling challenge they had ever embarked upon. I looked around me and felt a strong sense of emotion and friendship and found myself grinning from ear to ear.
As we neared the top I was desperate for the final 3km to be over. I knew my wife and sister were going to be at the summit and I couldn't wait to see them. We emerged from the tree line and the restaurant became visible at the summit, just a few more swithbacks remained before our challenge would be over. I could hear my name being shouted and even crossed 'Go Matt' that had been painted onto the road. A few of the guys jumped ahead to contest the finish but I was very happy to stay with my Team Patron team mates and savour the final few hundred metres with the riders that I had spent most time with on the road. We rounded the final hairpin and crossed the line four abreast, arm in arm and the sense of accomplishment rushed through my body.
I hugged my wife, my sister, my team mates, fellow riders, CCC staff. Photos were taken, riders were cheered home and even cigars were lit! The sun shone, the views to Mont Blanc were stunning, riders reflected on what they'd just been through, the pain subsided and it all felt bloody good.
Total stats:

Total no of cols: 109.
Total distance cycled: 1,878km.
Total height climbed: 41,142m.
Total ride time: approx 90 hrs
A few mentions go to: Team Patron - me, Claire and Steve Dyer and Carl. Formed on stage 2 whilst riding the Col de Telegraph. We found a common fitness level and riding ability, desire to ride together as a group, level of tolerance of each other(!) and a collective strength that certainly improved my experience of the whole event. We stuck together through thick and thin and had a brilliant time guiding the 'fun bus' over the route. The jokes were awful, the topics of conversation varied and Carl made sure the pace was kept 'steady' at all times. Newcomers were made welcome but they had to toe the line. Claire was a God on the climbs and Simon an engine on the flat and a demon descender. Carl is an ex-racer and knows the rules of the road. Without you my ride would have been half as fun and twice as hard. It was a pleasure to share the pain and the joy and ride with you all. Chapeaux.
Carl - the real Patron. Kept it all together when it could have so easily fallen apart. And for having a bike that most people can only dream of. And for keeping it real and riding standard not compact gears.
Kevin - my room mate for most of the event. The most determined and stoic rider I have ever met. And the most unlucky. Went off course, ate gels all day and pedalled through the pain. Didn't complain much about my snoring, but I'm sure wanted to kill me for it at times!
Will - for providing more stats than my small tired brain could contend with. For having a spreadsheet that provided total number of pedal revolutions (359,000) and height climbed as a ratio of Mt Everest's.
Rob and Jonny - for flying the flag for Scotland and for being tough climbers and great company. Rob's meeting of childhood hero Bernard Hinault in Briancon was really special.
'Aussie' Steve - for trying his best and for having more power than anyone I've ever met.
Roy - for showing us how it should be done on the climbs and the flat. Thanks for towing us along when we needed it and for giving anyone who tried to bring it on a run for their money.
Steve 'Snowball' - for making the most miraculous recovery from a head on collision I have ever witnessed and for finishing the event without a mark to prove it!
Mark - for the best Kangaroo-hitting story ever and for beating me in the 'best dressed rider' category.
'Old' Pete - for being such a great bloke, for keeping us all entertained with his constant gags and for being the most fearless and smoothest descender I have ever known. The saddest moment of the tour for me was when I found out he'd crashed. We missed him for the last few days but he was with us in spirit.
'Young' Pete - for being the smoothest climber, persevering with what looked like the most painful back problems and having the best attitude; you rode off the front, you rode further back, you laid in the middle of hairpins and took pictures of everyone. You even went off road to get round corners quicker. You never complained once. Sheer class.
Marcus and Dave - for always being out there on the road, sometimes in front, sometimes behind, but always first at the bar! To all those riders I haven't mentioned, it was great to meet you and share life with you on the road and from a suitcase, a day bag, a shower bag, etc...
To the CCC crew - you were a great team and worked tirelessly behind the scenes; Phil on briefings and out on the road, Claire at the snack stops, Theo on arrows, Bob the doc on painkillers and Jason on spanners. Cheers.
For everyone who sponsored me. I've raised over £2,000 for Motor Neurone Disease Association. I did it for you Nanna.
To my buddy John Mockridge who got me to enter the CCC in the first place, but sadly couldn't make it to the start through injury. Thanks for making me believe it was possible.
And finally to everyone that has supported me and sent me words of encouragement over the past two weeks. You'll never know how much it meant to me. Thanks.


Saturday 25th September
Best and Worst
A day at home and a chance to reflect on the previous 10 days riding. Tons of kit to sort out but it's amazing what you remember as you're pulling stuff out of your bag. A half eaten Belgian waffle from the snack stop, missing energy gels in flavours that I'd been craving, crumpled yellow route cards with all the cols highlighted and even my 4mm allen key that I'd been looking for since stage 2.
Here's a final summary of my personal best and worst experiences of the Cent Cols Challenge 2010:
Best climb - I really enjoyed the Montagne de Lure on stage 7. The weather was amazing and I was riding well on the climb that day. It was a long and steady 22km climb and the landscape changed as we neared the summit, plus it served as a prelude to the real col winner which has to be Mount Ventoux. It has long been a personal ambition of mine to climb Ventoux and I enjoyed everything about it. I felt its aura and reputation, I recalled the great riders that had raced up it, I felt its history on the road beneath my wheels and I had promised my family that I would one day ride to the top of Ventoux. I'd finally done it in the true spirit I had intended.
Worst climb - I suffered like a dog going up the Col de Champs after the lunchtime lasagne did nothing but weigh heavy on my legs for most of the climb on stage 4. I seem to remember the road being quite pretty and forested but I was staring at the tarmac two feet in front of me for most of the way up so didn't notice too much! The Col du Glandon also caught me out when I realised we were going up it the opposite way to the Marmotte route and I totally mis-paced the early part of the climb only to suffer on the 10-12% gradients for the final 4km!
Best descent - hitting 55mph on the descent of the Col de l'Izoard on smooth traffic free roads was awesome, but my best descent was coming off the Col de Champs after the lasagne and energy gels all started to work through my system and had given me energy in abundance! I wanted to catch all those that had climbed ahead of me and were already a long way down the descent. I was alert and up for a flyer. The descent was really technical and fast flowing and I buried it all the way down and managed to catch alot of riders by the time they'd reached the food stop at the bottom of the climb to Valberg. I was buzzing!
Worst descent - the roads around La Turbie on the way to Nice were rough and broken up and my boney arse took a pounding through my saddle that day! I was in discomfort on my saddle for the remaining 5 stages.
Best run-in to stage finish - the long downhill and flat run-in to Sisteron was great, with me, old Pete, young Pete, Carl and Simon Dyer sharing the pace on the front of our group, mostly at just under 30mph, for miles and miles as we made our way to the town finish as the sun was getting low in the sky. However for pure atmosphere the mountain top finish into Valberg at the end of a long hard day was great as the weather was changing and it felt like we'd really earned the stage finish that day.
Worst run-in to stage finish - the end of the longest day on the road into Bedoin was a killer. The final rolling climbs had been hard on my legs and passing the sign that said 'Bedoin 11km' when I thought we were virtually home and dry took quite alot of mental strength to keep myself going with the group all the way to the finish of the 145 mile stage.
Best day - for me stage 6 from Nice to Verdon was one of the best. It was a Sunday, we'd had a rest day, the early morning sun was warm and the mood was relaxed. The route passed through stunning scenery and we saw locals going about their varied weekend pursuits as we wound our way towards and through the stunning Gorge du Verdon.
Worst day - there's no actual day that I could call my worst. There were times of each day that were painful on the bike, but the physical side of the event was always going to be a major challenge. What made the days harder was the little time you had off the bike to recover and rest before the next day. Quite often, especially in the second week, you would finish riding at 7pm giving only an hour before dinner during which time you would shower and get as much kit ready for the next day as possible so you could get to bed soon after eating. Breakfasts were usually at 6.30am with 7am stage start times, so you were constantly in a rush to get everything organised. I found definitely the most challenging and hardest moments were off the bike. No wonder pro teams have so many support staff to look after their riders needs!
Funniest moment - difficult to pick one as there are so many. Old Pete telling me of Marcus's energy gel induced plight and discomfort as he climbed the Col de Telegraph in agony desperately needing the loo still makes me laugh even now. Claire constantly asking Aussie Steve to repeat his line 'I'm trying my best' in his strong Australian drawl is very amusing, especially as it was first said when his good friend Roy was teasing him to go faster when they were already riding at eyeballs out pace on a climb. Roy standing over Lenny and telling him that he 'can't lie there' when he'd crashed at speed and was lying in the middle of the road in Nice with a broken femur appeals to the dark side of my humour (sorry Lenny).
Best moment - has to be the final climb of the whole event, the 109th col up to Semnoz, not just because it was the last climb, but hearing my wife and sister cheering me home from the summit, riding over my name they had spray painted on the road and crossing the finish line four abreast with my Team Patron riding buddies, is a moment that will stay with me forever.