Rapha Cent Cols Challenge 2010 Part 2 by Matt Cowan
The Rapha Cent Cols Challenge 2010 - by Matt Cowan
Part 2

Friday 17th September
Au bord de la mer


Stage 5 - Valberg to Nice.

Chaos was brought to the Cowan party this morning because it was raining. We were 1,700 metres up in a ski resort and that means there is only one way out and that's downhill. And, at the departure time of 7.30am it was going to be very cold as the windchill against wet clothes once descending would make life pretty uncomfortable for the rest of the day.
Every night and every morning there is a load of kit management to sort out on top of eating, trying to rest and recover, and attending the rider's briefing. The next day's clothing is prepared; a separate day bag is packed with kit needed during the stage which is available at fuel and lunch stops; an 'arrival bag' with clothing and wash gear for when you arrive at the next hotel before your main kit bag arrives and, most importantly, all the energy gels, bars and special powdered drinks must be prepared to get you through the next stage. Everything has to be repacked and ready to be loaded into different vans before 7am breakfast, which doesn't give you much time when you're room sharing with two other guys and they're both going through the same process.
So, when it rained this morning, all the previous night's kit choices were thrown into disarray and the search was on for all the cold/wet weather gear I had brought with me. Luckily, I was not the only one, as everyone at breakfast was having the same issues and the talk was all about how many layers to wear, whether to go for full rainwear or lighter weight jackets/gilets, long gloves or normal gloves, waterproof overshoes or just oversocks, etc, etc. This was made more complicated by the fact that we were heading to the Med and hopefully it would get warmer and dryer as the day progressed plus, naturally, when you start going uphill you get too hot in whatever you're wearing! Chaos indeed!
For the early part of the morning it rained and a pattern quickly emerged: got wet and cold going downhill and covered in crap from the mountain roads and spray from other riders' wheels. Started climbing and immediately removed or unzipped as many layers as possible to try not to overheat. I've never had so many articles of clothing stuffed into my back pockets and up the back of my jersey on a climb before (dirty, wet and overloaded – I must have looked like a pack mule). Then it would all be reapplied at the summit before the next downhill. Quite a palava but very important to keep your core body temperature up as once you get cold in the mountains you tend to stay cold and that doesn't mix too well with trying to ride 218km, covering 20 cols with 4,500+ metres of climbing, all in one day.
We set about our task keeping together as a small group of 8 riders and worked to each others strengths all day, picking off the cols one by one until at long last we'd crested the higher Col St Martin and Col Turini before lunch. Gradually the weather improved in the early afternoon and at the summit of the Col St Sebastian we caught our first glimpse of the sea. It was a great feeling! Once over the Col de Madone and Col d'Eze, Monaco, St Jean Cap Ferrat and then Nice came into view. We descended onto a decidedly chilly Promenade des Anglais, skipped ice creams on the sea front in favour of heading out of town to complete the final two strength-sapping short, sharp cols that had been added to today's massive haul. We've now completed half the route, bagged half the cols, climbed double the height of Mt Everest and tomorrow is a hard earned and well deserved rest day. Yay!
Today's stats:

Total distance: 128 miles.
Ride time: 9hrs 27mins.
Total height climbed: 4,500 metres (approx as no-ones Garmin worked properly in the rainy mountain atmosphere this morning).
Number of cols: 20 (53 in total).
Thoughts go to: my 'team mates' who pulled me over a couple of the climbs when I was suffering today; Lenny, one of the best riders on the trip, who crashed and broke his hip on a descent within a few kms of today's finish; Bob, the tour Dr, who had a car crash en route to the hotel; Theo who got lost in Nice and couldn't arrow the route to the hotel properly; the number of riders who went off course due to lack of said signage; Pete who sat and waited with me so we could point riders in the right direction near the finish; all of today's puncture victims; all those that finished as night was falling due to the sheer severity of today's stage; and to Phil Deeker, the organiser, who dealt with it all brilliantly.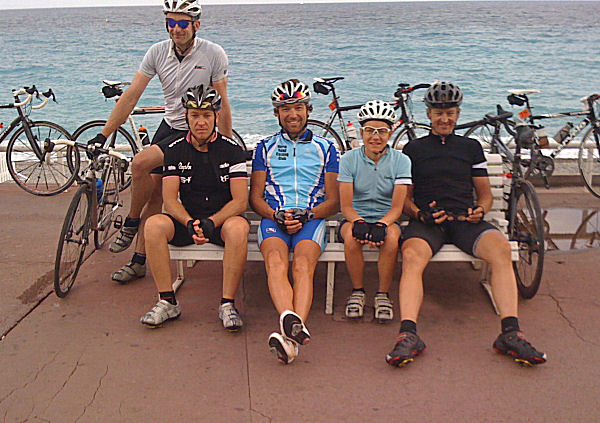 Half way round; sitting on the Promenade des Anglais, Nice

Saturday 18th September


Thrills, Pills and Bellyaches

Rest day - Nice.

Not quite following the title of the Happy Mondays album, but pretty close; Spills, Pills and Leg-aches would better summarise how we're feeling after the first half of the Cent Cols Challenge. We're five stages in, three cols up on our mid-way quota and have climbed higher that two Mt. Everest's (approx 20,000 metres). With these extreme statistics come the inevitable strains on bodies not entirely used to pushing themselves this hard. We are all amateur cyclists and it seems everyone has some kind of 'desk' job. The average age is about 40, the oldest person still riding is Melody from the US and she is 60! There are a few 20-somethings, but mostly we're in the mid stages of our lives and have had to fit in our training around day jobs and other family commitments. We've conditioned our bodies to suffer on long training rides and endurance sportive events over the past 12 months in the hope that we could recreate the daily stresses that we are putting on ourselves. It hasn't come anywhere close!
Most of us have been carrying a few niggles for the past few days, so today's rest day provided the opportunity for a bit of recovery and the chance to do not much except eat loads, rest, and clean and maintain our bikes. Here's a roll call of the riding wounded and those not so fortunate:
- Everyone is taking Ibuprofen or anti-inflammatory pills to nurse aching muscles and/or sore knees.
- I've a developed a saddle sore that is making life very uncomfortable and that not even the most generous helpings of the superb Assos Chamois Cream can seem to alleviate. I'm not alone in this.
- 2 x did not starts before stage 1; one with a mysterious muscle cramping virus and the other through an innocuous swimming incident in Lake Annecy resulting in 10 stitches after treading on broken glass.
- Keith, the oldest rider entered, retired after stage 1, realising the enormity of the challenge was going to be beyond even his seasoned and experienced capabilities.
- 1 x head on collision with an oncoming car on a descent on stage 2, resulting miraculously in two broken fingers, a broken nose and a few stitches to the chin. I was riding alongside Steve when it happened and he was extremely lucky not to have come off much worse or have met a truck coming the other way. He has taken full responsibility for riding on the wrong side of the road around a blind bend. Very nasty and a shocker for me too. Steve was back riding and rejoined the event half way through stage 3. Tough stuff.
- 1 x broken femur. Lenny hit the deck on a descent at the end of yesterday's stage and had his op in Nice hospital today. Recover well and hope you get back on the bike soon, Lenny.

- 2 or 3 grown men still suffering light headedness after meeting Bernard Hinault in the hotel earlier in the week. I fear they may never recover. Despite all this everyone is in incredibly good spirits and looking after themselves really well! The food has been great, the accommodation perfectly comfortable and we're all gearing ourselves up for part 2: five more stages, 50+ cols, and the mighty Mount Ventoux on Wednesday. Now, where did I put that Ibuprofen...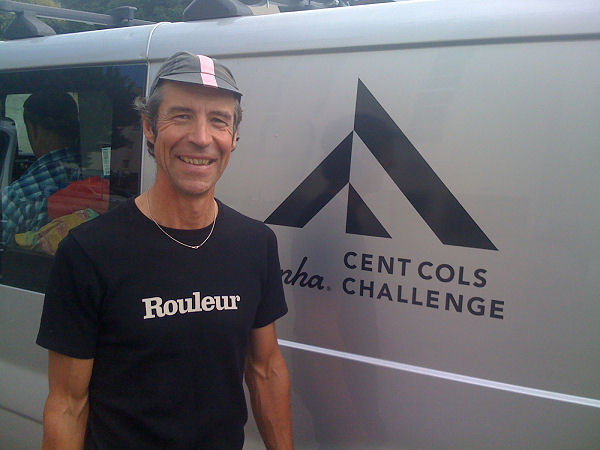 Phil Deeker, the brains behind the Cent Cols Challenge

Sunday 19th September

Wear and tear

Stage 6 - Nice to Verdon.

My bike and I showed the first signs of wear and tear today. Obviously I'm more concerned about my bike than I am of me, as the bike has to actually get me to the finish, whereas I can get patched up to last a few days longer, so as soon as the stage finished I planned to get Jason the mechanic to get my bike up on the stand and give it a good check over.
It had been making a terrible creaking noise right from the start this morning as we pulled out of the hotel car park and wound our way up through the beautiful villas to the first col to Vence. It sounded like the carbon frame might have cracked, but a spot check by the side of the road later on in the day and the opinions of at least 6 or 7 guys, all experts in carbon frame technology, revealed nothing untoward. Very reassuring but it still sounded like it wasn't going to get me through today's 213km stage.
The Sunday morning light was amazing and the roads were clear and quiet. We passed many local French club riders setting out on their weekend runs. Today's mood was the most relaxed of the trip so far, much more chatty than usual and the stage felt like it was going to be a little bit special. Maybe it was because we knew the route was going to be very scenic, or because everyone was fresh after yesterday's rest day, or perhaps because we know we're on the home stretch. Who knows? It just felt good to be on the bike with everyone riding grupetto in a beautiful part of France.
Our designated leaders for the first few kms were Jenn and Tim, a couple from the US, who got engaged on yesterday's rest day in Nice. Congratulations to you both! The first proper climb of the Col de Vence soon sorted the riders out into the comfort of their usual groups, except some of the guys who had been struggling in the first week suddenly got good legs and moved up a few places on the road. It was good to see them looking surprised and relieved with their sudden form and making use of it out on the road.
The route today headed north over the Maritime Alps towards the Gorge du Verdon. We passed through many sleepy villages, saw many early morning hunting parties gathering in woods with shotguns over shoulders and packs of excited dogs, and even got held up in a village by a Sunday morning bric-a-brac sale! The locals were in a friendly and relaxed mood, some shouting 'Bonjour!' as we passed them, those lunching in their gardens all waved as we cycled past and even kids on their bikes rode alongside us on the pavements shouting 'allez, 'allez!'. The route took us along some amazing back roads and, as ever, some challenging cols on the way. Narrow, twisting roads running between remote villages hugged the hillsides, their routes carved through the rock faces. There were many unlit tunnels and precipitous drops off the roadside to negotiate, and huge overhanging rock formations shadowing the sunlight above us.
The highlight was the Gorge du Verdon which came at the end of the day, preceded by the tough 15km climb of the Col Baous rising up from the fast flowing rapids of the river at base level, to the most stunning views of the Maritime Alps mountain range stretching as far as the eye could see in every direction at the summit. On the way up we saw vultures swirling above us, eagles soaring high above and packs of mountain goats along the roadside on the descent. Every corner in the road presented another viewing opportunity and the chance to peer over the edge and stare down the vertical cliff faces to the river in the gorge below. It was a special moment to mark the end of a special day.
My bike, it turns out, was having a special day of its own and had decided to chew the cassette bearing races within the rear hub. Not many Fulcrum Racing One spares available in the small village of La Palud sur Verdon, so the bearings have been packed with grease and reinstalled in the hope that they'll get me through the remaining four stages. I, on the other hand, have to persevere with a very painful bruised 'sit' bone in my arse that prevents me from sitting comfortably on my saddle at all. It's been a long and uncomfortable day, but I rode with my Team Patron team mates plus a few other guys on the way, joking, chatting, soaking in the views and despite the wear and tear life really didn't seem too bad.
Today's stats:

Total distance: 133 miles.
Ride time: 8hrs 47mins.
Total altitude: 4,300 metres.
No of cols: 14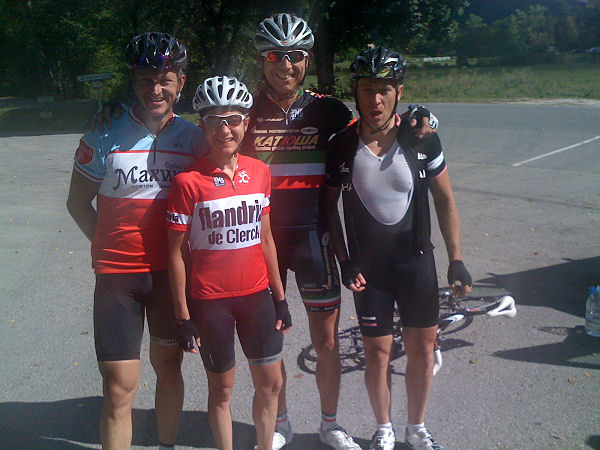 Team Patron: Simon, Claire, me and Carl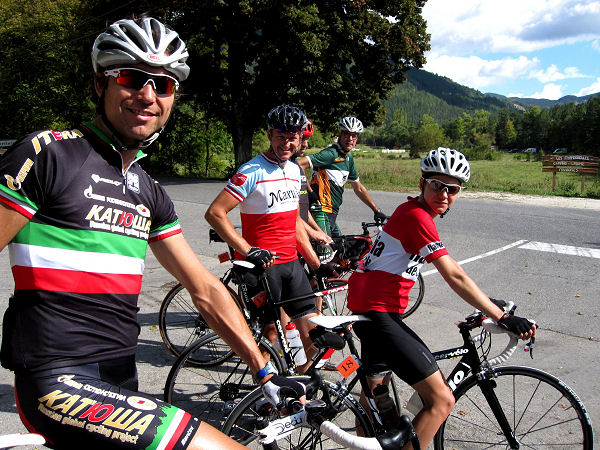 Monday 20th September

The longest day

Stage 7 - Verdon to Bedoin.

On paper today's stage should have been relatively straightforward. A classic transitional stage starting with a descent and long flat section, an early relaxed lunch in Forcalquier, and then a few modest cols along the way to bring us to the end of the stage at the foot of the Mount Ventoux.

Maybe expecting an 'easy' day had given me a false sense of perspective and that's why I had such a rough time. There are no easy days on this event. I am absolutely shattered and feeling quite sore. We set off as the sun was rising and completed the day 235km later at 7pm as the sun was getting low in the sky. The 9 punchy cols totaled no more than 3,750 metres but every one was strength sapping. The Montagne de Lure was a 22km brute from which Mount Ventoux, it's bigger and badder brother, could be viewed in the distance.
Getting back late in the day means your rest and preparation time for the next day is compromised. Dinner was at 8pm and all I wanted to do was go to bed. I had been lucky to keep with my group all day although I had to dig deep for the final 50km to stay with them, which was the last thing I wanted to do before tomorrow's huge stage. Hopefully I'll sleep well and recover OK for tomorrow.
Mood in the camp was also dampened when the news filtered through that Pete Matcham, 'old Pete', had suffered a nasty fall on the road in Bedoin and had been taken to hospital to be kept in overnight. He'd been knocked unconscious in the fall only a matter of minutes away from the stage finish. He is a very experienced rider and I'd ridden with him alot over the past few days. He is great fun, always joking and a real character. Hopefully we'll see him again before the end of the ride. He will be absolutely gutted to not be able to complete the challenge and we will all miss him on the road. Hope you're doing OK, Pete.
Today's stats:

Distance: 145 miles.
Ride time: 8hrs 55mins.
No of cols: 9.
Height climbed: 3,750 metres.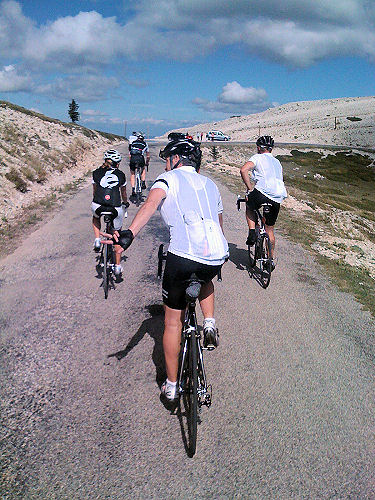 The Montagne de Lure was a spectacular 22km brute

Tuesday 21st September
A day in Provence
Stage 8: Bedoin to Vassieux

Today's stage was neatly bookended by a pair of 22km climbs. The first climb of the day straight after breakfast was the mighty Mount Ventoux and the final climb, the Col de Rousset, 14 cols and 205km later, started in a town called Die. Make of that what you will!
The only time I had visited Mount Ventoux previously was during a family holiday in Provence six or so years ago. We decided to take a day trip to visit the huge mountain we could see from across the flat landscape of vineyards and lavender fields 100km away. We reached our destination and had a coffee stop in Bedoin whilst watching hundreds of cyclists heading off in the direction of the climb. The lunchtime sun was beating down and we were grateful to be in our air conditioned car as we set off to make our ascent. We drove up the climb and stopped at different places to watch groups of cyclists slowly making their way through the vineyards on the lower slopes, then winding their way through the ultra steep forest section, before reaching Chalet Reynard 6km from the summit where the vegetation line gets left behind and the geology changes to resemble a moonscape of white rock where nothing grows. By the time we'd reached the observatory at the summit we were in awe of the cyclists that were arriving, some looking fit and fresh, others looking drawn and exhausted, but all having successfully achieved their objective of completing one of the most famous and most difficult of all climbs. I made a promise to my Grandad on the top of Ventoux that one day I would return and cycle up the Geant de Provence. Today I did it.
By now our legs have become conditioned to the long daily distances and multi-col climbing we've been putting them through. However it was with some trepidation that we rolled away from our hotel at 7am to make a start on what was going to be a long day on the road. We hadn't had a 5,000 metre climbing day for a while, so it wasn't necessarily going to be the distance that would affect us today, but the vertical height to be completed.
Climbing Ventoux was everything I had expected. It was relentlessly long and steep, but hugely satisfying at the same time. We rode steadily, talking about cycling's great riders, prompted by the names painted on the road surface still visible from last year's Tour de France. We negotiated the steep wooded section and broke free into a clear morning sky at Chalet Reynard to admire the views across Provence that seemed like a distance of hundreds of kilometres. We stopped at the Tom Simpson memorial to pay tribute to the British rider who had died whilst climbing Ventoux in the 1964 Tour. We rode the upper section flanked by the white rocky landscape and recounted the great Armstrong/Pantani battle and recent Schleck/Contador ascent in 2009. We were living out the great stages of our cycling heroes on the very same stretch of road.
The very final 2kms were under cloud cover hanging in the air above the summit so we weren't able to view the iconic observatory as we climbed, but it didn't matter. We were 1,912m up on the summit of Ventoux, the Col de Tempest, the 'White Mountain', the Geant de Provence, and we had loved every metre of it.
Our route today took us through the Drome region of Provence and into the Vercors by evening. Each day is filled with unforgettable scenery and experiences shared between a great bunch of people with a passion for cycling and the desire to finish this amazing challenge. The roads are mostly minor country roads affording the best views and the least traffic congestion or incident. So it was to our surprise today that we rolled onto a stretch of Tarmac that had been newly laid and promptly sunk into it!! It was so fresh the road crews were still compacting it. We managed to get to the side of the road and then spent the next half an hour blackening and blistering our hands trying to remove the tar and stones that had stuck to our tyres and jammed our wheels. A bit of a pain but we took it in our stride and added it to the list of experiences that are making this a truly great adventure.
Today's stats:

Total distance: 129 miles.
No of cols: 14 (90 in total).
Total height climbed: 5,000+ metres.
Ride time: 9hrs 42mins.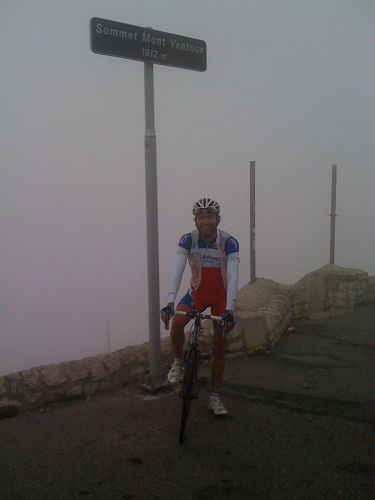 The top 2km of Mount Ventoux were still under early morning cloud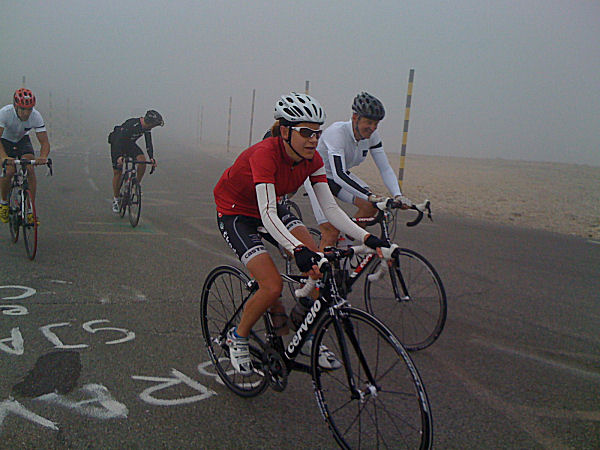 A long time personal achievement to reach the summit of Ventoux